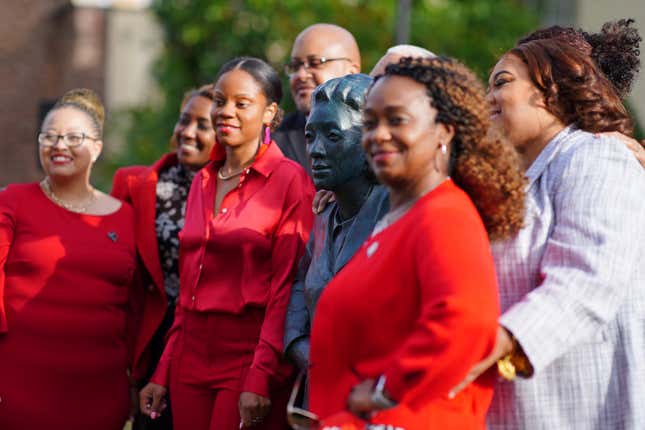 Decades after her death, the family of Henrietta Lacks continues to seek justice from the companies who use her biopsied cancer cells for medical research without consent.

Tackling A Black Maternal Health Crisis & Embracing Reproductive Justice | The Root Institute
Last week, the family settled for an undisclosed amount with Thermo Fisher Scientific. And on Thursday, with the help of high-profile civil rights attorney Ben Crump and co-counsel Christopher Seeger, the family filed a lawsuit in a Baltimore federal court against California-based biopharmaceutical company Ultragenyx.
According to a statment from their legal team, the Lacks family's suit alleges that Ultragenyx "made a conscious choice to sell and mass produce the living tissue of Henrietta Lacks, despite the corporation's knowledge that Lacks' tissue had been taken from her without her consent by doctors at Johns Hopkins Hospital. The retrieval of her tissue is considered part of a conspiracy to harvest tissue for research from Black women without their knowledge or consent in racially segregated wards throughout the 1950s."
And the Lacks family's lawyers are putting other companies on notice, saying they plan to go after additional entities profiting at Ms. Lacks' expense.
"Ultragenyx's choice to continue utilizing HeLa cells despite the cell line's origin and the concrete harm it inflicts on the Lacks family can only be understood as a choice to embrace a legacy of racial injustice embedded in the U.S. research and medical systems," said Ben Crump in a statement shared with The Root. "Like anyone else, Black people have the right to control their bodies. Just as Ultragenyx takes advantage of Henrietta Lacks' immortal cell line, they also take advantage of vulnerable individuals with rare illnesses by price gouging them for essential treatments."
Henrietta Lacks received treatment for cervical cancer at Johns Hopkins Hospital in Baltimore in 1951. While performing a biopsy, doctors saved a sample of her cancer cells without her consent and used them in medical research. Nicknamed "HeLa" cells, they played a critical role in important medical milestones, including the development the polio vaccine and the COVID-19 vaccine. Johns Hopkins maintains that they did not profit from the use of Ms. Lacks' cells.