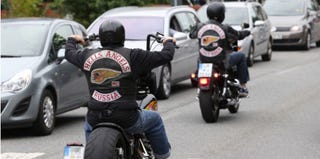 The Hells Angels are going hard at gangster rapper Young Jeezy and his 8732 Apparel for jacking their Death Head logo, TMZ reports.
According to the website, the infamous motorcycle club has filed a lawsuit claiming that the rapper's clothing brand has used the logo on jackets, vests and hats. While the design isn't an exact rip-off, the images are extremely close.
The Hells Angels are suing for unspecified damages, claiming that 8732 has made a substantial amount of money on their image. They also want a judge to demand that the rapper and the clothing company stop selling anything with the bootleg Death Head logo on it, according to TMZ.
Read more at TMZ.