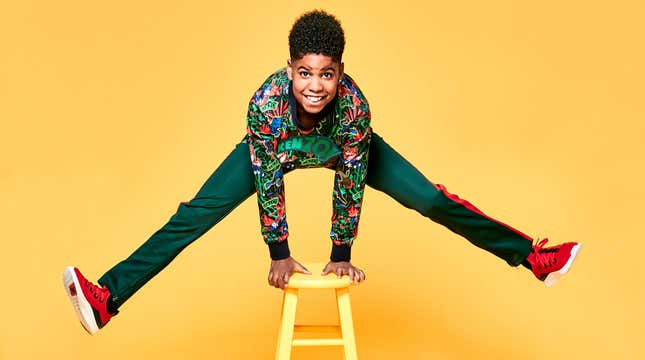 Young Simba is my favorite Simba.
Why? Because he's cute, spunky, braggadocious, and has one of the best Disney songs known to man (and animal kingdom): "I Just Can't Wait to Be King" from The Lion King. That song is also known as a Leo's anthem.
Tackling A Black Maternal Health Crisis & Embracing Reproductive Justice | The Root Institute
Well, back in the day (all the way back in ancient times—1994), that young voice belonged to two people, in fact: Jonathan Taylor Thomas (speaking voice) and Jason Weaver (singing voice), the latter of whom was uncredited at the time. I know! Blasphemy!
Twenty-five years later, The Lion King is being reimagined, live-action (really, CGI) style, helmed by actor-director-producer Jon Favreau. The new film boasts an all-star cast with talents such as Donald Glover, Beyoncé Knowles Carter, Chiwetel Ejiofor, Keegan-Michael Key, Alfre Woodard, and of course, James Earl Jones (because who else?!)
Portraying Young Simba in 2019 is 11-year-old JD McCrary.
Look at this star!
I actually remember JD from Little, starring Marsai Martin. He portrayed one of her character Little Jordan Sanders's new friends, Isaac. In his standout scene, he bursts into song at school, and I promptly balled up into a puddle of adorable feels.

You can't help but feel joy in this young talent's presence, even over the phone, which is how we engaged the afternoon I talked with JD about his favorite behind-the-scenes moment while recording voiceovers for The Lion King, his life's mission to evoke positivity and inspiration through his music, and whether or not he's met Beyoncé yet.
"The Lion King (1994) is such an iconic movie," JD told The Root. "And I didn't know that at the time. ... I just thought it was a really good movie about some lions."
I was also intrigued about JD's process in getting into the mindset of Simba, who essentially has to come to terms with witnessing his father's death, reconciling with his royal identity, and taking revenge on his own uncle.
"I just like to think that he's a lion that's going to become a king," JD responded. "He looks up to his dad [...] and he eventually grows up to kill his dad's killer." JD did also mention a cool aspect that extends beyond the typical grasp of lonely voiceover work: the studio incorporated Virtual Reality technology that visually took him to places like Pride Rock and the Elephant Graveyard while he was recording. Wow, if only to be in that room. I would've gotten my entire life. And JD did happen to share recording sessions with cast members, such as Seth Rogen (Pumbaa) and Billy Eichner (Timon).

Of, course I had to ask whether or not he's bet his Nala yet—or more specifically, the adult version, as the lovely and talented Shahadi Wright Joseph (Us) will portray Young Nala. That's right, inquiring minds want to know whether or not JD has been in the same room as Beyoncé yet.
"I have not, but I will," JD exclaimed, noting she and Jay-Z are "a dream team." "Beyoncé really inspires me. She is such a powerful artist and—might I add—a black artist who is very powerful and she's a great singer."
Along with starring in one of the biggest movies of the year, JD recently released his first ever solo EP, Shine, which is produced by Jermaine Dupri. JD is clearly about his music, even referencing the fact "Mr. Hans Zimmer" scored the original film and is returning for the remake. He was very excited about his new single, "Keep In Touch," which he dedicates to his family, friends, and fans.
"I just want people to feel good when listening to my music," JD noted.
With a smile and voice like that, I, for one, am looking forward to seeing what new energy he brings to Young Simba and, since The Lion King is all about the big musical numbers, I'm especially eager to hear him sing my favorite song.
The Lion King will be released in theaters on July 19, 2019. JD's debut EP, Shine, is now available on Spotify, Apple Music, Amazon Music, and more.