C'mon, melanin! The crush of New York Fashion Week coincided with the latest batch of black girl magical covers headed to newsstands as fall arrives this weekend, so we're just catching up on the hauteness of October's covers, several of which star some of our favorite faces. Our consensus? Hot Girl Summer is clearly a year-round phenomenon...and wow, do we love our calendar girls.
Lizzo
Lizzo graces one of three covers of Elle's Women in Music issue, in tandem with Camila Cabello and Billie Eilish. And when she's not putting Postmates drivers on blast (for which the star has since apologized, since she apparently may have simply missed the delivery window) Lizzo's uber-transparent brand of self-love continues thriving as she discusses perceived failure, perseverance and making the most of being bigger than the average pop star.
"I had an insecurity about what a star looks like, or what a front-person looks like. I felt like I was inadequate; I felt like I wasn't enough; I felt like people didn't want to look at me and listen to what I had to say," the musician and Hustlers actress reveals to Elle, later adding, "I didn't love who I was. And the reason I didn't love who I was is because I was told I wasn't lovable by the media, by [people at] school, by not seeing myself in beauty ads, by not seeing myself in television...by lack of representation. My self-hatred got so bad that I was fantasizing about being other people. But you can't live your life trying to be somebody else. What's the point?"
G/O Media may get a commission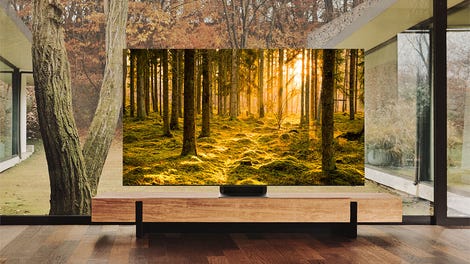 Up to 40% off
Samsung Smart TVs
Janet Mock
When it comes to living your truth, Janet Mock is perhaps the prototype. The always dressed-to-the-nines writer, activist, producer and history-making director dreamt of starring in a full-fledged fashion shoot; a wish recently granted by Out magazine. It's the same type of fulfillment Mock is giving to the predominantly trans cast of Pose.
"These women deserve to be the heroines. These women deserve to have hair and makeup and costumes. These women deserve to have great lighting. These women deserve to be first, second, and third on the call sheet," she tells Out. "What a great gift it has been for me to be a part of the show. It has given me the experience and the résumé to create my own content."
Mock's resumé now includes an overall deal with Netflix—a first for an openly trans woman, let alone a black one.
"I am a woman; I can write women's stories. I'm a Black person; I can write Black stories. I am a trans person; I can write queer and trans stories," she says. "That opens up my world and my perspective more than someone who is just white, cis, and straight."
Tracee Ellis Ross
Tracee Ellis Ross has one of the most enviable manes of hair in Hollywood (some might say she gets it from her mama), so it was only a matter of time before the fashion-loving Black-ish star (and occasional director) dipped into the haircare realm—but apparently, it was a leap over 10 years in the making. Launching Pattern, her new line for natural hair, mid-New York Fashion Week, Ross wrote on Instagram:
Pattern is the result of 20 years of dreaming, 10 years in the making...The formulas are unique and packed with luscious & safe ingredients—trust me I know, because my panel and I tried 74 different samples to get these 7 formulas for phase one...because everyone should have access to their most beautiful hair in their own shower, and gorgeous packaging that conjures the legacy of our history and makes us all feel like the royalty that we are.
Ross is definitely giving us regal vibes on the latest cover of Essence—her fourth—where her crowning glory is in full effect. But as always, Ross remains our best friend in our heads, an honor she gladly accepts.
I feel like we are a community of sisters out here. That kind of makes me cry a little bit, because we are a community of sisters told by mainstream society that we are not the thing, and I know I've had to make my own way through that messaging. I look out and see other sisters and think, I see you. Do you see me? Because I see you...we have been shining out here. I don't know about you, but I see women and Black women being the leads all over the place. In so many unique and extraordinary ways we're changing the script, curating our own lives, handling so much with grace and humanity and joy.
Who else are we currently seeing on stands? Rising star Laura Harrier on one of W magazines multiple covers—notably, Harrier also starred on the September issue of Marie Claire UK; the incredibly talented (and stunning) Naomie Harris, soon back onscreen with Tyrese Gibson in Black and Blue, covers Shape's October issue; and newly-minted supermodel Anok Yai nabbed another of W's four covers, cementing her star status only two years after being discovered at Howard's homecoming.
In short, the fashion world is continuing to recognize that black beauty is for all seasons...so, welcome to Haute Girl Autumn.