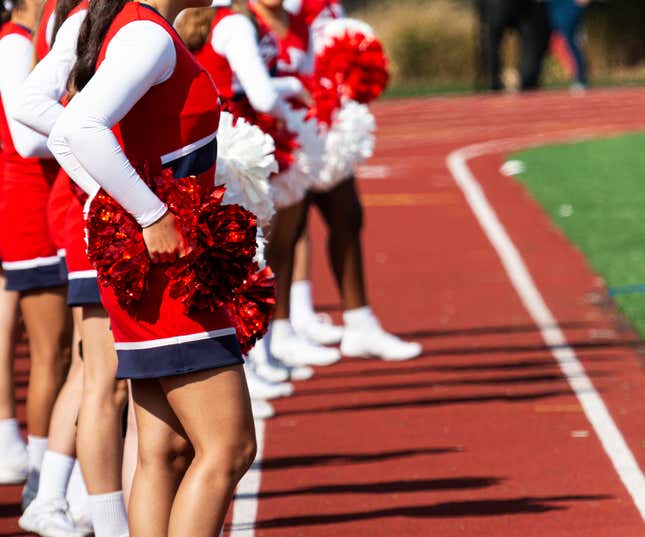 A Virginia school district is seeking a third-party investigation into a racist email sent to a high school cheerleading coach concerned about the race of the next coach, per WTOP News. The email included hateful language, making disgusting comments about previous Black coaches.

American Ninja Warrior: Season 15 Is Our TV Pick of The Week
Complaints from parents who have kids in sports range from concerns about coaching, not liking the uniforms or maybe even a little team drama. However, an anonymous author sent an email to Oakton High School cheer coach Jillian Domenech with a concern about the race of the next cheer coach. The message was allegedly sent on behalf of parents and students who "would not feel comfortable with another colored individual" coaching the cheer team.
Excuse me?! You can't pick and choose the race of a coach. This ain't an ice cream shop.
"Many of the girls were shocked to see another coach last season with such dark and strong features," read the email. The message even named a previous coach, Faith Dabrio, saying she was nice and "spoke professionally at times" but wasn't a good fit "culturally" for Oakton.
Now, Fairfax County Public Schools and the Fairfax County NAACP branch are trying to track down the author of the hate mail.
Read more from WTOP News:
In a letter to the school community last week, Oakton High School Principal Jamie Lane said that the school system's technology staff tried to identify the sender but was unsuccessful. Fairfax County police consider the act a bias incident, but a spokesman told WTOP that there is no criminal activity and no law was broken.

Police were similarly unable to trace where the email originated and were only notified of the incident two weeks ago, the spokesman said. Virginia's largest school system says the independent third-party investigator will "delve further into this matter."
The unfortunate thing is that there are situations where Black people are shut out of predominantly white spaces because of racist, Karen requests like these. Though, lately, schools aren't so willing to tolerate racism from staff, students or even parents. The clock is ticking on fishing out the writer of this email. Cheer season is around the corner.
"The more time that passes where children are subjected to a threat of unknown origin and unknown magnitude, the greater the danger to their physical and emotional well-being," said Fairfax County NAACP in a statement.