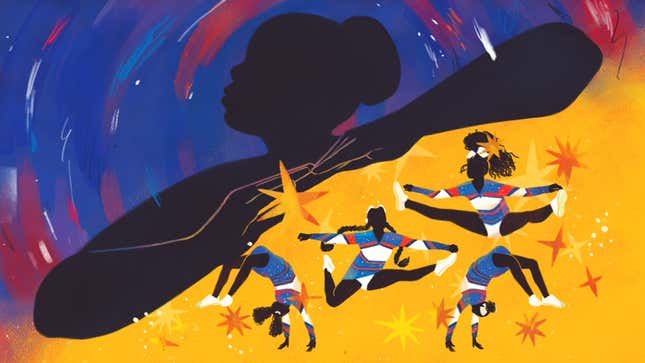 Na'kya McCann and her mother were on their way to the Tops Supermarket in Buffalo, NY, on May 14, 2022. Na'kya's grandfather wanted a watermelon, and the market was just three blocks from the gym where she and the other members of Buffalo All-Star Extreme (BASE), a cheerleading team for young girls, practiced. But a few wrong turns slowed them down. And when they eventually arrived at the market, they discovered chaos after an 18-year-old white man drove 200 miles from his home in Conklin, NY, to Buffalo and opened fire in the supermarket with an AR-15-style rifle. Payton Gendron, the shooter, targeted the Tops Supermarket because of its location in a predominantly Black neighborhood. His rampage killed ten people and injured three others.
American Ninja Warrior: Season 15 Is Our TV Pick of The Week
NPR Broadcast Goes Behind The Buffalo Shooting:
Today, NPR's documentary series Embedded launches Buffalo Extreme, a first-person podcast following the Buffalo All-Star Extreme team in the year after that horrific mass shooting rocked their community.
In the first episode, we meet now-19-year-old McCann, who narrates the story and introduces listeners to the cheerleaders, parents and coaches who were the heart of BASE. And she explains how the deadly shooting turned their world upside down.
Now a college student, McCann lovingly describes BASE as more than a place for cheerleading. It was an afterschool haven where the girls did homework. It was where their coach, Ayanna Williams (who McCann affectionately calls Auntie Yanni), tried to instill confidence in her "beautiful brown kids," despite the stares and criticisms they received from people who felt they didn't belong in competitive cheerleading. "The all-star cheer world is a white girl world," the coach says in the first episode. And it was where the team felt safe – until the Tops Marketing shooting occurred.
In the year since the shooting, other stories have pushed this one out of the headlines. But the young women and girls of BASE are still deeply impacted. Some of the cheerleaders lost family members. And the entire team was left wondering if their gym would be the next target of a white supremacist looking to cause harm.
"When this incident happened, it was in the news for a month or two, but we're still living it," said McCann in a statement shared with The Root. "This is the story of how one person's action has a ripple effect on a small city. Whether it was two weeks ago, two months ago or a year ago, the question still remains – are we safe?"
An Addictive Story Pulls you In
Irene Noguchi, who oversees the unit that produces Embedded, said she wanted to place listeners inside the community to give them a complete picture of the shooting and its impact. And the emotional audio diaries recorded by the cheerleaders, their parents and Coach Ayanna do just that – they pull you in and make you want more.
"In previous seasons, we've covered Mitch McConnell, police-involved shootings and war. This time we wanted to embed with a community after a racist mass shooting and really get to know the kids, their moms, and their coaches as they pieced together the emotional aftermath. That's what reporter/producer Marianne McCune did. She turned the mic over to young Buffalo athletes, and they told the story of what a really complicated healing process looks like," she said.
New Episodes to Air Every Thursday
Reporter/producer Marianne McCune agrees that allowing the teens to take over gives listeners something outside reporters could not do.
"Over the course of making Buffalo Extreme, I got to witness Na'kya bloom as a storyteller. And the biggest reward is for listeners: they get insights and ways of telling that I, as an outsider, could never deliver," she said.
New episodes of Buffalo Extreme will publish every other Thursday. On weeks when there are no new episodes, Embedded+ listeners get access to special bonus episodes, which go behind the scenes of the show. You can learn more about Embedded and Buffalo Extreme here.