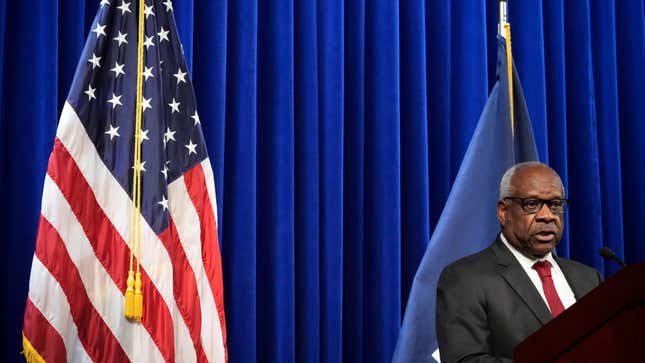 Updated on 6/9/23 at 12:50 p.m E.T:

U.S. Supreme Court Justice Clarence Thomas—who was at the center of controversy in April after it was revealed that he did not share luxury trips paid for by billionaire Harlan Crow—has received an extension to file his required yearly financial disclosure, the court has confirmed.
"Too Black" or "Not Black Enough": W. Kamau Bell on the Politics of Black Identity
Seven of the nine justices did disclose outside gifts and income from 2022. Conservative Justice Samuel Alito was also granted an extension, according to the court. Extensions can last for up to 90 days. Justice Ketanji Brown Jackson, who became a part of the court last year, was one of justices to disclose their financial filings forms on Wednesday. Jackson revealed she received gifts totaling $8,360.
This included a designer dress and jacket worth $6,580 that she wore for a Vogue magazine photo shoot. She also received a floral arrangement valued at $1,200 from Oprah Winfrey. Brett Kavanaugh earned $29,000 from his stint as a law professor at George Mason University's Antonin Scalia Law School. Amy Coney Barrett received the same amount for also being a law professor at the University of Notre Dame Law School.
Original Post:
It looks like Republican donor Harlan Crow remains adamant about keeping all of the gifts he gave to Supreme Court Justice Clarence Thomas to himself. In a letter addressed to the Senate Finance Committee, Crow stated that he will not submit a list of gifts he gave Thomas, who has dealt with renewed calls to step down in lieu of the scandal that was first reported by ProPublica last month.
Committee Chairman Sen. Ron Wyden, D-Ore, requested all of the luxurious undisclosed gifts, trips and payments Crow has provided to Thomas over the years. In particular, Wyden wanted detailed descriptions of all of Thomas' free flights on Crow's private jets as well as trips on his yacht. The senator also requested the federal gift tax returns for gifts made to Thomas or those related to him.
Wyden also asked for information pertaining to three Georgia properties Crow purchased from Thomas and his family. The letter from Crow's lawyer, Michael D. Bopp, stated: "We have serious concerns about the scope of and authority for this inquiry. As you are aware, the Committee's powers to investigate are not unlimited."
Bopp continued by saying that the "Supreme Court has explicitly stated that Congress has no authority to engage in law enforcement investigations or to conduct investigations aimed at exposing citizens private affairs for the sake of exposure."
Bopp also insisted that the committee also lacks the power to conduct a tax audit "for the purpose of determining whether Justice Thomas complied with ethics standards the Chairman believes should apply in this instance." Thomas' attorney believes that he is being intentionally targeted and this conduct "raises substantial separation of powers concerns."
"The assertion that the Finance Committee lacks a legislative basis for an investigation of the abuse of gift taxes by the wealthy is simply preposterous," Wyden explained in a statement Tuesday. "The bottom line is that nobody can expect to get away with waving off Finance Committee oversight, no matter how wealthy or well-connected they may be."
Last week, it was also reported by ProPublica that Crow also paid private school tuition for a member of Thomas' family.