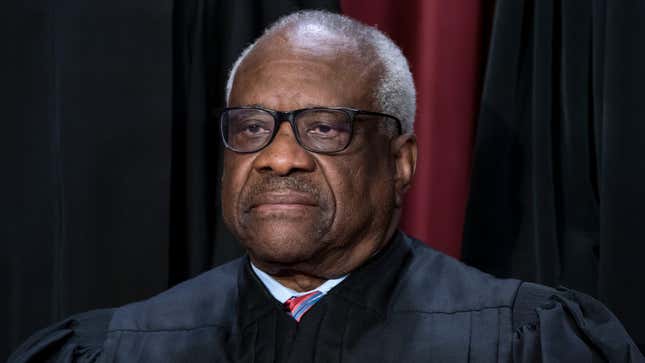 Updated 4/7/23 at 3:20 p.m. E.T: 
In a new statement from Justice Clarence Thomas, he addressed ProPublica's shocking new report about accepting lavish gifts from GOP donor Harlan Crow. Thomas is under scrutiny for failing to report the gifts on his public financial filings with the Supreme Court. Thomas said that Crow was one of his family's "dearest friends" and the luxury travel he received from him was the "sort of personal hospitality from personal friends."
Are Black San Franciscans Getting $5 Million Each in Reparations?
Thomas also said: "As friends do, we have joined them on a number of family trips during the more than quarter century we have known them. Early in my tenure at the Court, I sought guidance from my colleagues and others in the judiciary, and was advised that this sort of personal hospitality from close personal friends, who did not have business before the Court, was not reportable."
Thomas also noted how the guidelines for reporting personal hospitality have recently changed. "And, it is, of course, my intent to follow this guidance in the future," Thomas said.
Original Post:
In a shocking new report published Thursday (April 6) by ProPublica, it was revealed that Justice Clarence Thomas and his wife Ginni Thomas have taken numerous luxury trips courtesy of GOP megadonor and conservative businessman Harlan Crow. Additionally, these trips were not disclosed on Thomas' public financial filings with the Supreme Court.
Many believe that this type of exchange equates to bribery and are demanding that Thomas step down from his position. This apparent ethical breach has incited Democrats, with Senate Judiciary Committee Chairman Dick Durbin—a Democrat from Illinois—saying that the ProPublica report was "a call to action." Durbin also claimed that "the Senate Judiciary Committee will act."
Crow told ProPublica that he's known Thomas and his wife for more than three decades. He also insisted that the trips were "no different from the hospitality we have extended to our many other dear friends." That travel gifted by Crow included excursions to New Zealand, Indonesia, California, Georgia and Texas.
Thomas and his wife had access to Crow's yacht and stayed at properties owned by Crow or his company. ProPublica noted that trips on Crow's private jet went undisclosed on his public ethics filings. However, Thomas did report a trip on Crow's trip in 1997. In a statement to ProPublica, Crow explained there was nothing unethical about his generosity:
"Justice Thomas and Ginni never asked for any of this hospitality," Crow said in the statement...[we] never asked about a pending or lower court case, and Justice Thomas has never discussed one. I am unaware of any of our friends ever lobbying or seeking to influence Justice Thomas on any case, and I would never invite anyone who I believe had any intention of doing that. These are gatherings of friends."
In March, the federal judiciary intensified disclosure requirements for all judges, which included the high court justices. However, overnight stays at personal vacation homes owned by acquaintances are still exempt from disclosure.
Last year, it was revealed that Ginni Thomas contacted White House officials and lawmakers in an attempt for them to overturn the 2020 election results. There was a call for Thomas to step away from election cases, though he refused. Hopefully, this new information will force justices to adopt an ethics code and force Thomas to step down since he continues to abuse his power.