Editor's note: This week we're celebrating the birthdays of three phenomenal performers—Chaka Khan, Aretha Franklin and Mariah Carey—who not only share late-March birthdays but who also have voices that have defined their generations. First up, on Monday, is the Queen of Funk, Chaka Khan. On Wednesday we'll honor the Queen of Soul, Aretha Franklin, and on Friday, the irrepressible Mariah Carey.
Mariah Carey, Chaka Khan and Aretha Franklin have a lot in common.
They are gorgeous women of color with powerful, iconic voices that cross generations. They all possess songbooks worthy of envy. Plus, they all share late-March birthdays, making all three Aries.
If you follow your horoscope sign (whether for real or fun) and are an Aries, you are a leader—or you at least see yourself as the leader of your pack. I was raised by a first-born Aries, who was a natural leader despite struggling with a crippling shyness. Some of my best friends are highly driven, take-control Aries who have literally picked me up and got me going. And while I can't pretend to know Mimi, Chaka or Aretha, nothing about their careers says "second place." They lead.
Aretha Franklin, born March 25, 1942, is the gospel-soul singer all others are compared with. She is the mold. Declared the "Queen of Soul" in the 1960s, she has sung for princes and presidents. She demands (and gets) the "respect" she famously sang about. Like many R&B singers, she started out singing in church. But unlike other R&B singers, she did so in the church or her father, Baptist minister and civil rights activist C.L. Franklin.
G/O Media may get a commission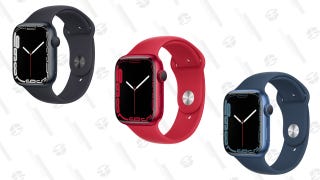 Up To $45 Off
Apple Watch Series 7
From observing her career overall, we learn that Aretha can sing anything. Lullaby? Sure. The blues? It comes easy. Opera? Challenge accepted. Does Aretha Franklin want to be your friend, entertain your foolishness, praise your Auto-Tuned artistry? No, she does not. But she'll be nice about it. She did say Taylor Swift had "great gowns" that one time someone asked for her assessment of the "Shake It Off" ex-country singer-songwriter.
Chaka Khan, born on March 23, 1953, came after Aretha. (But everyone did, so that's nothing to feel bad about. These are just facts.) She got her own title, the "Queen of Funk," for coming to prominence in the 1970s while fronting lead vocals for the funk band Rufus.
The child of artsy bohemians in Chicago, Chaka has always had an earthy realness about her that's present in her music. When she sings "I Am Every Woman," you believe this in the way Gaia, Mother Earth, is part of us all.
Our sexy, soul-funk mother Chaka wants us to feel good about ourselves. She wants us to love. She wants us to dance. She has lived about seven different lives by this point: girl group member, former Black Panther—not to mention R&B star and Broadway diva.
She, like Aretha, can sing anything (jazz, soul, R&B, hip-hop, disco) and has done it with artists as varied as Dizzy Gillespie, De La Soul, Quincy Jones, Shaggy and Prince. She has had her struggles, with substance abuse and the battle of the bulge (something almost every woman is familiar with, including yours truly), but she is a survivor. And she looks better than ever.
Mariah Carey, born on March 27, 1970, has vocally demolished everything moving, from her 1990 self-titled debut onward. With her operatic range and vocal clarity, she immediately received comparisons to the legendary Whitney Houston. But Mariah brought her own bag of tricks to differentiate herself from the "I Will Always Love You" singer's melisma.
If Aretha created the standard and Chaka advanced it, Mariah is the idol smasher who made singing both better and worse at the same time. She made it better because Mariah is a master at melisma. She so popularized the art of singing several notes on one syllable that this has become a regular part of the pop-R&B singer arsenal, used by everyone from Beyoncé to Christina Aguilera. Yet she made it worse because she inspired a generation of lesser, oversinging warblers. Contestants on American Idol (for which she was briefly a judge, maybe as a punishment for unleashing this demon) are the worst offenders.
Mariah Carey's sound, which has launched a thousand imitators, is where current young singers' voices aim to go as they fail over and over, trying to replicate what has been the standard for almost 30 years. Even Mariah can't beat Mariah. While as a singer-songwriter she has created her own Christmas classic and owns too many awards to name, she is a victim of her own success. People constantly compare her to her 1990s whistle-high, note-hitter self because she doesn't hit that note only dogs can hear anymore.
In fact, that's Aretha's and Chaka's only problem, too. They had the nerve to grow older, live lives and have these birthdays.
But Mariah, Chaka and Aretha don't need to chase the Billboard charts anymore. They already have a legacy to stand on. People say other singers "sound" like them, but no one is them. The only people better than Chaka, Aretha and Mariah are peak-era versions of themselves. They have solidified their places in the pantheon.
And this proves again that they are leaders. And the great initiate. The others can only imitate.