Editor's note: This week we're celebrating the birthdays of phenomenal performers who not only share late-March birthdays but who also have voices that have defined their generations. First up is the Queen of Funk, Chaka Khan. On Wednesday we'll celebrate the Queen of Soul, Aretha Franklin, and on Thursday we'll celebrate the boss, Diana Ross. Then, on Friday, the irrepressible Mariah Carey. Read our essay on the divas here.

Born Yvette Stevens on March 23, 1953, Chaka Khan rose to fame as the lead singer of Rufus in the late 1970s. Her voice fueled the funk-music movement in the same way her idol Aretha Franklin's voice did for soul and R&B. She has inspired generations, and her music continues to influence artists across the musical spectrum. Now, as we celebrate the 62nd birthday of the Queen of Funk, here are 10 songs that made her a household name.
1. "I'm Every Woman"
Children of the 1990s probably think Whitney Houston was the first artist to sing this classic, but it was actually Khan who made the song a hit in 1978. Released as the lead single from her debut solo album, Chaka, "I'm Every Woman" was co-written by husband-wife songwriting team Nick Ashford and Valerie Simpson. The song made Khan a bona fide star and proved that she could soar as a solo artist.
2. "I Feel for You"
Khan is also no stranger to covering other artists' songs and making them hits. In 1984 she released her version of "I Feel for You," which was written and originally recorded by Prince on his self-titled album in 1979. Khan's take on "I Feel for You" became one of her biggest commercial successes as a lead solo act, peaking at No. 3 on the Billboard Hot 100. The riffing harmonica by Stevie Wonder and Melle Mel's rapping also deserve some credit for giving the song a special boost to the top.
G/O Media may get a commission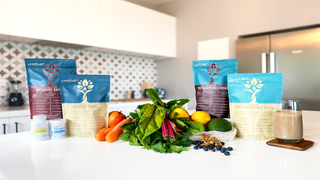 3. "Sweet Thing"
It would be a mistake to assume that Khan is just a talented singer. She co-wrote—along with Rufus guitarist Tony Maiden—"Sweet Thing," one of her most popular songs with Rufus, proving that she is multidimensional. "Sweet Thing" has been covered by dozens of artists who have been inspired by Khan's sweet, yet complex vocal performance. The most notable version is by Mary J. Blige, on her What's the 411? debut album.
4. "Stay"
All true funk-music fans should know "Stay." Recorded with Rufus and released on the Street Player album in 1978, the song features Khan's signature powerful upper register soaring over music superbly arranged to complement her voice. "Stay" was co-written by Khan alongside Rufus drummer Richard "Moon" Calhoun.
5. "What Cha' Gonna Do for Me"
Despite her rise to fame as a face of the funk, many of Khan's hits as a solo artist have been in the field of R&B and soul. "What Cha' Gonna Do for Me" is one of those singles, and it features Khan singing with more restraint than in her previous releases. The song earned her a Grammy nomination for Best R&B Female Vocal Performance in 1982.
6. "Clouds"
Before Houston became a global icon, she honed her skills as a background singer. Joining her mother, Cissy Houston, and a young Luther Vandross, Whitney got one of her first tastes of the spotlight on Khan's single "Cloud," from her Naughty album.
7. "Papillon (aka Hot Butterfly)"
Vandross earned several credits on Khan's Naughty album. Perhaps his best work as a background singer is on "Papillon (aka Hot Butterfly)," where his milky baritone provide a perfectly balanced contrast with Khan's piercing soprano. "Papillon" never became a big hit for Khan, yet the song is still a fan favorite 35 years after its release.
8. "Through the Fire"
Kanye West famously sampled Khan's "Through the Fire" on his debut single, "Through the Wire," and it launched him onto the charts as a future force in hip-hop. However, nothing compares to the original. "Through the Fire" was written for Khan's I Feel for You album in 1984. When West performed his updated take on Khan's classic hit at the 2004 MTV Video Music Awards, he brought his inspiration to the stage, helping to introduce her to a new generation of fans.
9. "Tell Me Something Good"
Khan and Rufus' first big hit on the Billboard charts came via a little help from Wonder. "Tell Me Something Good" was written by the music legend for the group's second album, Rags to Rufus. It earned Rufus the Grammy Award for Best R&B Vocal Performance by a Duo or Group in 1975. The trophy was Khan's first-ever win at the ceremony. Since then she has won nine more.
10. "Ain't Nobody"
If Khan ever recorded a truly timeless song, it's "Ain't Nobody." With production ahead of its time, the record is a seamless combination of funk, R&B, dance and disco. It is a masterpiece suited to almost every era of popular music since its release in 1983. It's no wonder that "Ain't Nobody" is widely regarded as one of Khan's signature songs and remains a staple on her concert set list.
Trent Jones is an editorial fellow at The Root. He also produces a daily video commentary called #Trents2Cents. Follow him on Twitter.