Miko Branch, co-founder and CEO of the multimillion-dollar Miss Jessie's natural-hair-care line, is hoping the tale of her success will inspire others who might want to follow in her footsteps.
"It's more like the cherries on top, to be able to stand in my shoes and know where I came from, and know I had a wonderful partnership with my sister to build this business," Branch says. "It feels good to be able to come to that place to tell that story. It's fun!"
Branch, 46, works constantly to spread the story of Miss Jessie's LLC, the company she co-founded with her late sister, Titi Branch. Miko Branch is in Washington, D.C., this weekend for the 2017 Forward Conference, where she will be a keynote speaker, giving millennials the tools to create their own successful businesses. Branch's book, Miss Jessie's: Creating a Successful Business from Scratch—Naturally, will be available in paperback Feb. 14.
"I'm very excited and feeling good," Branch says. "When we decided to write the book in 2013, we wanted to share our business to inspire others. We built our business from scratch, and I imagine lots of others want to be on their own, but don't have the access or expertise. … [The book] gives me a chance to touch more folks."
The Branch sisters opened their first salon, Curve, in Brooklyn, N.Y., in 1997. They mixed ingredients at their kitchen table, creating products that would enhance the look, feel and health of curly hair, since there were almost none on the market at that time. It was a technique learned from their beloved paternal grandmother, Jessie Mae Branch, described on the company's website as a "tell it like it is" woman who was known to "tear up hind parts if she had to." Money was tight, and Miko and Titi did what they had to to grow their business and brand.
G/O Media may get a commission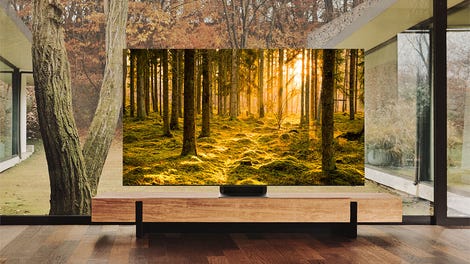 Up to 40% off
Samsung Smart TVs
"My sister and I pooled our resources, and those were not money resources; they were our God-given talents. My sister was a great communicator and great organizer, and she was a great big sister. I was good at hair and understood the beauty business. The magic came when we got together," Miko Branch recalls. "[But] we weren't sophisticated when it came time to source loans. What we did do was sacrifice. We wore each other's clothes, we were roommates, we took in another roommate and put a premium on value and innovation at … the salon. When we created the product there was nothing like Curly Pudding. We put a price on it and were able to slowly build our business."
By 2004 the sisters had created Miss Jessie's Curly Pudding, named after their grandmother. Women with curly, coily and kinky hair flocked to Brooklyn to buy the product. Branch told the Atlanta Tribune that along with their grandmother, the legendary hair, beauty and business pioneer Madam C.J. Walker inspired the sisters and taught them that success was possible. They started selling their products at Sodafine, a now-defunct women-owned thrift shop in Brooklyn's Fort Greene neighborhood.
"The reason that we were there is we could no longer service people coming to our brownstone because we lived there! People were ringing our bell to get this curl magic in a jar. I was a single mom and my son and I were sleeping on the fourth floor," Branch says, laughing. "People were ringing our bell at ungodly hours and you couldn't buy the product unless you were a client with an appointment. So my sister and I strolled into a store on DeKalb [Avenue]. We were going to do a 60-40 cut … we were willing to take 40 because we were desperate … but these two girls said why don't we just do it 50-50 … and we were able to be fair with each other."
A year later, the sisters renamed their salon Miss Jessie's, and it continues to sell a line of products clients rave about, including Curly Meringue and Pillow Soft Curls. They later started selling their product at Ricky's, a New York-based beauty emporium, and their curly-hair line is available now at nationwide chains such as Target.
Tragedy struck in 2014 when Titi Branch lost her battle against depression and took her own life in December. Miko still mourns the loss of her big sister but wants people to know that it is possible, if painful, to endure such a devastating tragedy.
"When something devastating like a death takes place, the first reaction is to break down and really embrace that loss. It's very painful, and it's one of the hardest things I have experienced," Branch says. "But because I kept my head, I was able to operate and still be a mom and keep my own sanity. It's very important to stay calm and stay focused."
Miko Branch has battled on, and says the next step for her is taking more time for herself and her family after having hit most of her business goals.
"My business has surpassed anything I could imagine. [But] with the loss of my sister, I'm putting a value on life and the quality of life," Branch muses. "There is more for me to do personally, more happiness to touch on. I'm figuring out ways to extend my life and be a happy and healthy human being."
Allison Keyes is an award-winning correspondent, host and author. She can be heard on CBS Radio News, among other outlets. Keyes, a former national desk reporter for NPR, has written extensively on race, culture, politics and the arts. Follow her on Twitter.