Madam C.J. Walker would be smiling if she were alive today.
The nation's first female, self-made millionaire made her fortune selling beauty and hair products she'd developed to African-American women, beginning in the early 1900s. Now a new line of products—Madam C.J. Walker Beauty Culture—is bringing her legacy to a new generation.
"I'm very excited," said historian A'Lelia Bundles, Walker's great-great-granddaughter. "I've been preparing for this moment all of my life!"
"This moment" is the product launch by Sundial Brands, known for its SheaMoisture and Nubian Heritage lines. But instead of being available at drugstores such as CVS, Madam C.J. Walker Beauty Culture products will be sold exclusively at beauty giant Sephora and Sephora.com. The four-collection, 25-product line will be part of what the global market-research firm Mintel called in 2015 the $2.7 billion black hair-care industry.
"It is a statement to be in a place like Sephora," Bundles said, and she is pleased that Sundial is the force behind the new line. "They have been wonderful about wanting to make sure that the legacy is part of the overall story that is going on."
Walker was born Sarah Breedlove in 1867, the daughter of Louisiana sharecroppers. Widowed at the age of 20, Breedlove began losing her hair, and in 1905 she developed a system involving scalp preparation and lotions that revolutionized black hair care. She took the name Madam C.J. Walker after marrying her third husband, Charles Walker, and her treatment became known as the "Walker System." She first sold her homemade products directly to African-American women. By 1910, when she moved from Pittsburgh to Indianapolis, Walker had a fleet of more than 3,000 workers who sold her product line of nearly 20 hair and skin items door to door and by mail order.
G/O Media may get a commission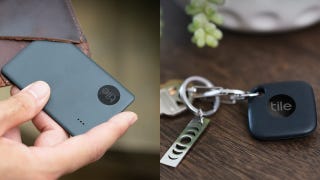 Up to 35% off
Tile Item Trackers
"Her immediate focus was growing hair," said Bundles. "She created a system to cleanse hair more often in an era where many had no indoor plumbing and a lot of women were going bald. … Her initial product was a shampoo and ointment with sulfur. … The Walker System was meant to address hygiene and healthy hair and hair growth."
Walker used her fortune to fund scholarships at the Tuskegee Institute and donated huge sums to the NAACP and the Black YMCA, among other charities. The charter of her company provided that only a woman could serve as president. When her daughter, A'Lelia, inherited Walker's sumptuous New York City mansion, it became a gathering place for members of the Harlem Renaissance.
Walker died in 1919, but Sundial Brands CEO Richelieu Dennis is focused on continuing the legacy of this entrepreneur whose achievements he has always admired.
"The story means so much to so many," Dennis said. "And I felt it wasn't right that the most relevant and cultural icon of beauty and the beauty business, and the representation of what beauty means to our community, was not represented in the same way as Estée Lauder and Coco Chanel. It's not like we don't have that [Walker] legacy to look up to."
The Madam C.J. Walker Beauty Culture line will range in price from $24 to $32, and while Dennis acknowledges that some might find that a little pricey, he said, "We feel that Madam Walker's legacy is one of prestige, and one of pride." He also says that selling it through Sephora aligns well because he sees the beauty firm as a globally recognized retailer of "prestige beauty."
It's clear that African-American hair care is big business. In its 2015 report, Mintel noted that the market for black hair care products is up 7 percent since 2010. The report also found that products specifically targeted to black consumers are becoming more widely available as mainstream brands such as Revlon and L'Oreal develop products to address the specific needs of black buyers. Interestingly, as more women wear natural hairstyles, Mintel research shows that sales of relaxers have dropped 19 percent in the past two years.
That's one of the reasons Dennis is excited about the four collections that address the cleansing, treatment and styling needs of all hair textures. He says that the Madam C.J. Walker Beauty Culture line brings in two beauty breakthroughs: dual-encapsulation oil technology and a natural silicone alternative.
"The encapsulation technique, the oil, is an effective natural replacement for silicone," Dennis said. "So you'll be using less product that will last longer."
Bundles says that the launch of the product line is even sweeter for her because it addresses all hair types. At 63, she says, she's been through every possible hair journey.
"For my generation, having an Afro … we had one style, either a big blowout or a really short natural," Bundles said. "Part of what I like about this collection is, there is something for every texture: locks, curly-kinky, wavy and heat-treated. … Now a younger generation is teaching all of us something about letting your hair speak for itself."
The Madam C.J. Walker Beauty Culture line launches at Sephora and Sephora.com on March 4.