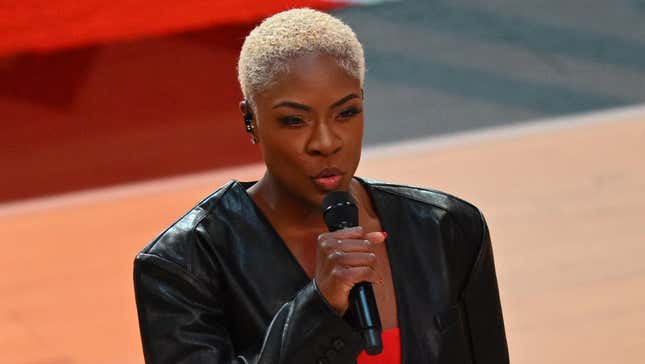 Jully Black went viral on social media for making a bold move while performing at the NBA All-Star Game on Sunday in Salt Lake City. The Canadian R&B songstress made a one-word alteration to her country's national anthem—and immediately garnered attention for the decision.
Instead of singing the original lyrics of "O Canada! Our home and native land," Black recited: "Our home on native land." She also took a noticeable pause and emphasized the word "on." This change was a popular one and was quickly celebrated on social media.
Immediately following the game, the hashtag #ourhomeONnativeland started trending on Twitter. Chuck D praised Black's performance by stating it the "most soulful O Canada [he'd] ever heard." The singer replied: "Your love means the WORLD to me!
"You've been #ThatGuy to impact change and educate to elevate us all! This is less about me and more about being apart of the change in any way I can! Love you Bro."
Indigenous rights have been a contentious issue in Canada for a while. Last year, there was a shocking discovery of mass burial sites found at residential schools, which was part of a structure that existed from the 1800s to the 1990s that tore apart Native families and attempted to convert their children to Christianity.
In July 2022, Pope Francis went to Canada to apologize. In addition, Canada reached a $31.5 billion deal over Indigenous children needlessly being placed into foster care.
The most recent official change to Canada's national anthem was made in 2018 to be gender inclusive. "All thy sons command" was changed to "all of us command." A Senate statement confirmed the change by saying: "O Canada now includes all of us."