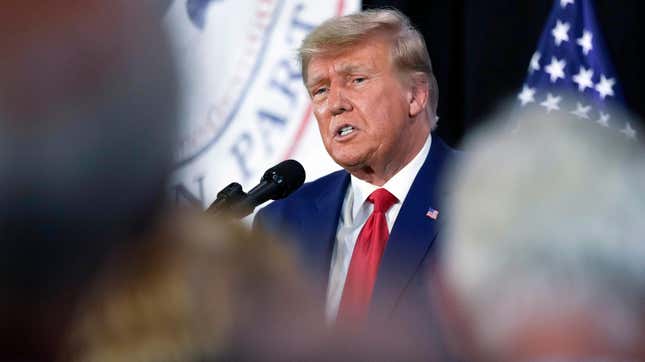 Updated 7/22/23 at 12pm E.T:
Federal Judge Aileen Cannon has announced that former President Donald Trump's trial on charges of mishandling classified documents will begin on May 20, 2024. Trump's attorneys stated that the case should not go to trial until after the November 2024 presidential election, since he is currently seeking reelection.
The ruling serves as a compromise between the requests of Trump's legal team and federal prosecutors who wanted the trial to start at the end of 2023. The trial will happen in U.S. District Court in Fort Pierce, Florida, Cannon ordered. This the first time a president, current or former, has faced criminal charges from the federal government. It is Trump's second set of criminal charges Trump he has faced since launching his bid for the White House.
Last month, Trump pleaded not guilty to 37 criminal counts related to his retention of classified documents after leaving the White House in 2021 and alleged attempts to hide them from the government. He also has been charged with 34 counts of falsifying business records related to a supposed hush money scheme to conceal allegations of his extramarital affairs.
Original Post:
On Monday, Georgia's Supreme Court rejected Donald Trump's attempt to stop the Fulton County probe into if he and his supporters meddled in the state's 2020 presidential election. District Attorney Fani Willis is leading the investigation to see if there were "coordinated attempts to unlawfully alter the outcome of the 2020 elections."

The petition that was declined was one of two Trump's lawyers filed in various Georgia courthouses last week. Both petitions asked the court to move quickly since Willis "has signaled that she will use the report—itself the fruit of contorted and coopted process—to secure an indictment against Petitioner within weeks, if not days."
The petition also called to ban the district attorney "from introducing any evidence obtained via the special purpose grand jury process to a regular grand jury." The ruling was short and unanimous. The nine-judge state Supreme Court explained that Trump was requesting "is not the sort of relief that this Court affords, at least absent extraordinary circumstances that Petitioner has not shown are present here."
They added: "Moreover, even if the petition were procedurally appropriate, Petitioner has not shown that he would be entitled to the relief he seeks." The other petition Trump filed in Fulton County Superior Court in March was similar in nature. The judge who oversaw the grand jury investigation, Robert McBurney, hasn't filed on that ruling yet.
However, Trump has many other things to worry about. He recently issued a statement saying that he received a "target letter" from Special Counsel Jack Smith of the Justice Department Sunday night. Trump also claimed that Smith gave him four days to report to a grand jury looking into Trump's attempts to undermine the 2020 election and the January 6 insurrection Capitol.
Another indictment stemming from the riot may follow. In addition, a judge threw out Trump's request for a new trial in E Jean Carroll civil case.