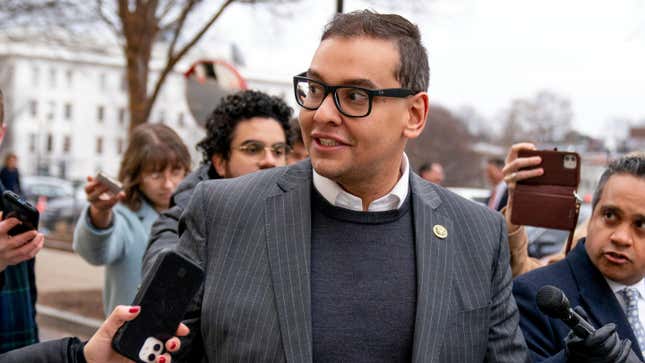 If there's one thing George Santos will always have, it's the audacity. On Monday, the Long Island Republican Rep announced his plans to run for re-election in 2024. Additionally, Santos also introduced seven new bills.
FX On Hulu's Kindred Star, Mallori Johnson, Plays That's So Random
One of the bills is The Minaj Act, which has the goal of sparking "a development period for new vaccines in order to generate public confidence," Semafor contributor Kadia Goba reported. In 2021, the emcee expressed doubt over the COVID-19 vaccine saying it made one of her cousin's friends "impotent."
As U.S. representative of New York's 3rd Congressional District, Santos' peculiar move is simply a tactic to distract from the fact that he shouldn't hold office. He has admitted to lying about where he went to school (Baruch College), where he's worked (Goldman Sachs, Citi Group) and even him being Jewish.
Santos also reached a plea deal recently with prosecutors over a 2008 check fraud case in Brazil. In addition, he is under investigation by the House Ethics Committee for alleged illegal campaign activity, violations of conflict-of-interest laws and sexual misconduct against an ex-staffer.
Though lawmakers from both parties have demanded Santos step down, he refuses. In a press release confirming his candidacy, he described himself as "a poor boy of immigrant parents in Queens" who is eager to fulfill his duties. "We need a fighter who knows the district and can serve the people fearlessly," he said.
"Good isn't good enough, and I'm not shy about doing what it takes to get the job done. I'm proud to announce my candidacy to run for re-election and continue to serve the people of NY-3." All that can be said in response to this perplexing revelation is that delusion is one hell of a drug.