USA Today reports that a Gallup poll released today found that 35 percent of Americans oppose the death penalty — the highest opposition since March 1972, when the Supreme Court ruled that the death penalty was constitutional unless it was applied unfairly.
Results also show that the number of people who believe that the death penalty is being applied fairly, as well as those who say that it isn't used often enough, is at the lowest point in a decade, showing a major shift in attitudes, the site says. Forty percent, however, still believe that the death penalty isn't imposed enough.
The poll was conducted shortly after two controversial cases drew attention: the September execution of Troy Davis and last week's Supreme Court hearing involving Alabama death row inmate Cory Maples.
Davis was executed despite evidence that he may have been wrongly convicted in the 1989 murder of Savannah, Ga., police officer Mark MacPhail.
Maples was convicted of murdering two companions, but his death sentence is being appealed because his court-appointed lawyers failed to present key evidence about his background during the penalty phase of his trial. 
G/O Media may get a commission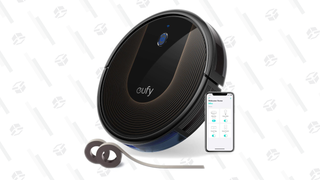 48% Off
Eufy BoostIQ RoboVac
Such highly publicized cases are altering public opinion, says Diann Rust-Tierney, head of the National Coalition to Abolish the Death Penalty.
"The numbers are consistent with what we've been seeing. People see cases like these where they just can't square the executions with a common sense of fairness," Rust-Tierney says. "There's been a steady erosion in confidence in the system as more and more people sentenced to death have had their cases overturned."
Nearly 140 death row inmates have been exonerated or had their cases overturned on appeals, Rust-Tierney says.
In talks with friends, family and advocates who worked to help save his life, Davis repeatedly asked that he not be allowed to die in vain. The public apparently was listening. Now it's time for lawmakers in states that still use this byzantine form of punishment to listen.
Read more at USA Today.
In other news: VIDEO: Smiley and West on Wall Street Corruption.