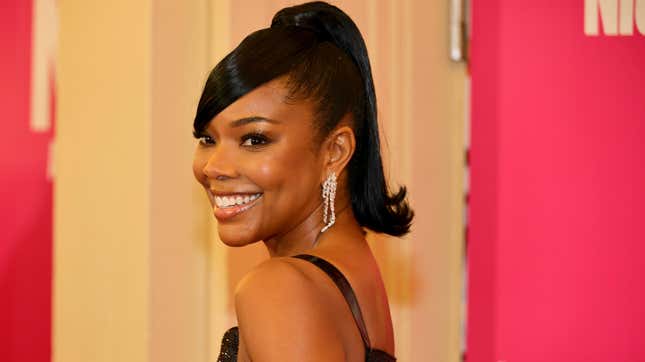 If there's one thing I love and appreciate about Gabrielle Union, it's the fact that she never shies away from transparency, especially when it comes to arguably problematic moments of her past. The latest example comes from a recent interview she did on the Armchair Expert with Dax Shepard podcast, where she took a trip down memory lane to discuss her first marriage to ex-NFL player Chris Howard.
A Black Holiday Trivia Card Game Is Our Swag Of The Week
Describing it as "dysfunctional from day one," Union shed light on the reason why she felt "entitled" to cheat in her four-year marriage. As she explained to Shepard, per People:
"In our first marriage, neither one of us felt like the marriage should get in the way of our dating. A part of it was like keeping up with his activities, like, 'Oh, that's what you're doing? You're going to feel this one,' and I just felt entitled to it as well. I was paying all the bills, I was working my ass off, and I felt like that's what comes, the spoils of riches. Like my dad before me, whoever has the most gets to do whatever the hell they want is what I thought."
She later added, "I wish I had more guilt for some of that. It was such a stupid relationship that should have never got out of the dating phase."
The Cheaper By the Dozen star also shared that the two did attempt therapy, but while there, they discovered they'd be better off seeing other people.
"[She said] we should probably look for a way to amicably dissolve… because you have not one thing in common, no morals, no values. The only thing you have in common is other people, so why don't you just go be with other people?"
Whew, talk that talk, Ms. Therapist. Look, I'm a firm believer in the fact that once you own your story, no one can make you feel bad about it. So the fact that Union can look back and admit how toxic the situation was shows a level of growth some never even get to in this lifetime. I truly aspire.
To hear Union's full episode, visit armchairexpertpod.com.