Freaknic.  Mention the name of the famous-some would say infamous-Atlanta spring break festival to those who attended, and you get a myriad of responses.  Some remember the early years of the 1980s, when students from HBCUs from throughout the Southeast could meet and fellowship during a four-day picnic. Others remember the ugliness that plagued the later years, when the city of Atlanta did all it could to discourage the festival.  Either way, Sharon Toomer, one of the Freaknic founders, has seen it all.
"It all started back in 1982 as a way for DC students in the AUC [Atlanta University Center] to have a picnic for spring break," said Sharon Toomer, who was a Spelman College student and member of the DC Metro Club at the time. 
 "A lot of us couldn't afford to go back home to DC, so we decided to have a picnic in Atlanta."
And thus began the first Freaknic, which was held at Atlanta's Piedmont Park, with about fifty students attending from the historically black AUC, comprised of Morehouse College, Spelman College, Morris Brown College and what is now known as Clark Atlanta University. 
The name Freaknic was suggested by a DC Metro club member as a way to tie into the popular 1980s term "freak," which was being used in hit songs like Funkadelic's "(Not Just) Knee Deep (Freak of the Week)" and Chic's disco hit, "Le Freak."  Soon, students from HBCU schools as far flung as Tuskegee University in Alabama to Lincoln University in Pennsylvania were making their way to Atlanta to celebrate spring break.
G/O Media may get a commission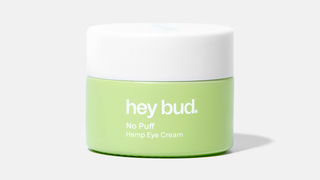 15% off
Hey Bud - No Puff Hemp Eye Cream
And Freaknic filled a niche in the market, as most spring break destinations like Panama Beach, Daytona Beach, and Cancun, Mexico, were geared toward white college students.  There wasn't an exclusive place for African-American students to blow off a bit of steam before returning to the rigors of school.
For the first ten years of Freaknic, that word of mouth kept the numbers of attendees reasonable, with the original fifty guests growing to a few thousand. 
But things would change in 1992, when Freaknic entered the pop-culture lexicon, from the down and dirty-2 Live Crew's Luke Skywalker gave it a shout-out-to the wholesome-it was mentioned on Bill Cosby's spin-off, A Different World, too.  Freaknic became a part of the African-American zeitgeist, turning an intimate picnic into an event where an estimated 200,000 people attended at the festival's high point in the mid '90s. 
But with the rapid expansion, the fun-loving tenor of Freaknic changed from good clean fun among college students to something darker.  Oakland hip-hop legend Too Short moved to Atlanta in '93 and remembers being shocked by his first Freaknic. 
"I'd heard about Freaknic from friends in California who threw their own party that was based on Freaknic.  So when I moved to Atlanta in 1993, they insisted that I just had to go to Freaknic," Too Short said. "I thought it was just like a regular picnic."
What greeted Too Short was a festival that had outgrown parks and was now spilling into the streets.  Increasingly, there were incidents of drunken violence as well as gang altercations and shootings.  In 1994, the Atlanta police would have to use tear gas to stop looting in Atlanta's Underground. s. But most of all, the assaults on women were becoming more frequent and disturbing.  
"At that time in '93, the guys would just admire the women from afar, but not put their hands on them," Too Short said.  "You know, they were wearing skimpy booty shorts, but that wasn't anything unusual.  You saw that everywhere in the South. But I'll never forget 1995, because it was then that I saw men just groping women and keeping their hands all over them."
"With Freaknic in the '90s, I started hearing about gang rape and shootings," said Toomer, who'd graduated from Spelman, yet tried to monitor Freaknic throughout the years. 
"When it was a college event, there was an honest desire to have a good time. Yes, that included drinking, but there was almost no violence.  And certainly, there wasn't any degradation of women.  But then you started to see older men preying on women, and that's when Freaknic got bad."
Morehouse College alum Philander Stewart was a young 18-year-old freshman during his first Freaknic in 1994.  But what he saw stuck with him. "There was [sic] large amounts of alcohol consumption; women were wearing next to nothing and there were instances of women and men having intercourse on busy streets," Stewart remembered. "Some women were being assaulted and instead of people extending a helping hand, they playfully laughed it off."
Too Short has his own memories of women at Freaknic.
"I remember this group of men standing across the street, and they were yelling at a woman 'come here, bitch' and she stopped," Too Short said. "They then said that 'if we have to come over there, it's gonna be worse.'  So you could see her think about it, and finally decide to walk to them, where they just groped her, taking her womanhood.  And I'm thinking there's nothing player about that.  Freaknic had turned into Pervertnic."
Finally, the city of Atlanta had enough.  In 1999, then Atlanta mayor Bill Campbell declared that Freaknic was not welcome in the city. From there, the city government actively discouraged Freaknic, from increasing arrests to closing freeway entrances so the city was almost inaccessible. Freaknic was effectively dead.  Until now.
Today, Freaknik: The Musical is a controversial cartoon on the Cartoon Network. And promoter J.K. Jones is bringing back Freaknic to Atlanta and expects nearly 20,000 people to attend.  But not everyone is happy that it's coming back, including the city of Atlanta-and Toomer.
"What it speaks to is an absence of a place for black college students to go during spring break," she said.  "But it's sad that they have to reach back to Freaknic, instead of creating their own [traditions]."
Lawrence C. Ross Jr. is the author of The Divine Nine: The History of African American Fraternities and Sororities and a brother of Alpha Phi Alpha Fraternity, Inc. Follow him on Twitter.
Lawrence Ross is the author of the Los Angeles Times best-seller The Divine Nine: The History of African American Fraternities and Sororities. His newest book, Blackballed: The Black and White Politics of Race on America's Campuses, is a blunt and frank look at the historical and contemporary issue of campus racism on predominantly white college campuses. Follow him on Twitter and Instagram.