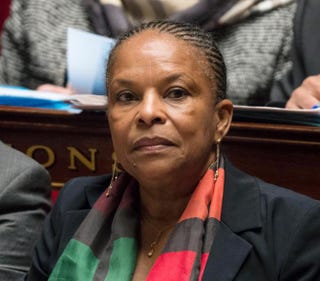 It's the third time in about a month that France's justice minister, Christiane Taubira, has been publicly ridiculed with racist gibes, causing backlash for the lack of respect afforded the foremost black politician.
The far-right weekly magazine Minute published a cover declaring, "Crafty as a monkey, Taubira gets her banana back," the Agence France-Presse reports. 
Given the public reaction, Interior Minister Manuel Vells said that he would look into seeing whether it was legally possible to block the magazine's distribution, saying the insidious headline cannot be overlooked.
According to the AFP, politicians went to Twitter, demanding the magazine's editor be prosecuted for incitement to racial hatred. The human rights group SOS Racisme is investigating lodging a formal legal complaint, forcing authorities to look into any possible breach of laws.
Harlem Desir, one of the founders of SOS Racisme and a member of the socialist party, said that the police should seize all copies of the offensive magazine. France's sports minister said it was "unacceptable and nauseating."
Taubira, who is the minister responsible for the legalization of gay marriage, is a targeted hate figure for France's right wing.
At the end of October, children attended an anti-Taubira/anti-gay marriage protest and were filmed chanting "monkey, eat your banana." Just before that, a far-right political candidate was booted out of her party for writing on her Facebook wall that she would prefer to see the minister "swinging from the branches rather than in government," AFP notes.  
Read more at the Raw Story.
Like The Root on Facebook. Follow us on Twitter.