Black Conservative Gets Facts Wrong on Jemele Hill
A Penalty for Nondisclosure of Diversity Info?
Patricia Thompson to Direct Accrediting Group
Obamas to Produce Shows, Films for Netflix
9-Year St. Louis Reporter Agrees to Drug Program
Ticketing Disparities Linked to Class as Well as Race
Wedding Drew Big Audience, but It's All Relative
He Wisely Covered 'Losers,' Now He Flips Hot Dogs
Short Takes
Black Conservative Gets Facts Wrong on Jemele Hill
It didn't take long for "Fox & Friends," President Trump's favorite television show, to attack the National Association of Black Journalists' choice of Jemele Hill as its Journalist of the Year, announced Monday. Recall that Sarah Huckabee Sanders, Trump's spokeswoman, once suggested that Hill be fired.
The attack came from a black conservative, Lawrence B. Jones, who had his facts wrong. Jones, 25, is editor-in-chief of a site called Campus Reform, which pledges "conservative coverage of liberal bias and abuse on America's campuses!" and "holds itself to rigorous journalism standards."
Jimmy Traina reported Tuesday for Sports Illustrated, "It's not breaking news to say that Fox & Friends is one of the worst shows in the history of television, but today was a banner day. The state-run program dedicated an entire segment to blasting the National Association of Black Journalists for naming ESPN's Jemele Hill its Journalist of the Year.
G/O Media may get a commission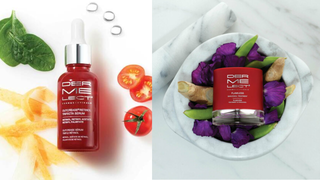 Save $19
Retinol Renewal Kit
"Now, before I even get into what actually took place, can we just pause for a moment and acknowledge how hilarious it is that Fox & Friends decided to pretend today that they even care one iota about the National Association of Black Journalists? Truly precious.
"OK, now for the segment. The completely lost hosts and their guest did not critique the NABJ for giving Hill the award based on her body of work the past year. Instead, they spent the whole segment ripping Hill for being 'unemployed.'
"Here's the thing: JEMELE HILL STILL WORKS AT ESPN. JEMELE HILL IS NOT UNEMPLOYED.
"Yes, Hill is no longer hosting the 6 p.m. edition of SportsCenter, but ESPN has used her on a variety of its shows, such as Highly Questionable and SportsNation and she writes a column. It's right here.
"Obviously, you'd have to be off your rocker to expect Fox & Friends to get anything right and pay attention to facts, but this particular quote from the guest was especially comical: 'The National Black Association of Journalist is literally saying we're gonna applaud unemployment and that's not something I stand for.'
"One: It's the National Association of Black Journalists. Two: She's not unemployed. It got better, though. The guest then dropped this absurd line:
" 'How can she donate to those young black folks if she no longer has a platform? If I want, if I had a little girl, to say, hey, if she wanted to go in sports, she could look up to Jemele.
"Well, there is no Jemele anymore."
"That has to be news to Hill, who at last check is still alive and well and employed by ESPN and tweeting to more than 1 million followers.
"Oh, and all the hosts kept calling her 'Jemeal' throughout the segment. . . ."
"Fox and Friends" later tweeted a correction: "On the show this morning a guest stated Jemele Hill was unemployed. Correction: Hill is currently employed by ESPN."

Alex Putterman of Awful Announcing began his story Monday about the award this way:"After a year in which she criticized the president as sharply as anyone in the American press, launched a national controversy that rose all the way to the White House, earned a two-week suspension over a series of tweets, left the show she helped develop and emerged as maybe the most loved and most hated person in sports media, ESPN's Jemele Hill has been named the National Association of Black Journalists' 2018 Journalist of the Year.
"Hill appears to be the first person ever to win the NABJ's signature honor while primarily covering sports. Other recent recipients have included White House Correspondent April Ryan of American Urban Radio Networks, anchor Lester Holt of NBC and segregation reporter Nikole Hannah-Jones of the New York Times.
"In a release, Hill called the honor 'the biggest accomplishment of my career.' . . ."
In addition to being a talk-show host, Jones claims to be an investigative journalist. He worked for Project Veritas, most recently in the news for trying to entrap the Washington Post. It's another case of how elastic the term "journalist" can be. Coincidentally, the Multicultural Media Correspondents Association, a Washington-based group advocating media diversity, is honoring broadcast executive Cathy Hughes, entrepreneur Soledad O'Brien and others Thursday at the National Press Club.
For the sake of ideological diversity, however, radio host and former Republican presidential candidate Herman Cain, a businessman known for turning around Godfather's Pizza, and Republican operative Raynard Jackson are being identified as "journalists" and honored as such for their "excellence."
Cain is the "radio journalist honoree" and Jackson, syndicated columnist for the National Newspaper Publishers Association, is "New Media Journalist of the Year."
A Penalty for Nondisclosure of Diversity Info?
"To cover the 2016 election season, journalists needed a deep knowledge of this nation's communities and constituents — by race, gender, class, region, and religion, among other factors," Farai Chideya wrote in a study of diversity in the news media, excerpted Tuesday in Columbia Journalism Review. "Yet most major news outlets and news teams failed to anticipate the unusual nature of the election. And while this does not invalidate their work, post-election assessments have not included systematic analyses of who was chosen to cover the campaign.
"I contacted 15 major news outlets for information about their political press corps during the campaign, expecting they would readily provide it. However, despite repeated inquiries, fewer than a third — only USA Today, The New York Times, NPR, and The Washington Post —provided the requested data. . . ."

Chideya, journalism program officer at the Ford Foundation, wrote the paper as a spring 2017 Joan Shorenstein Fellow at Harvard University. Paraphrasing the Kerner Commission report of 1968 on the race riots of 1967, she concludes:
"To re-frame their sentiments for our industry and our times: Our newsrooms are moving towards two different ethical and functional frameworks: one which views the lack of racial and gender equity as inconsequential, and one which realizes the American news industry is not a functional meritocracy. Work remains to be done. This deepening division is not inevitable. The movement apart can be reversed. Choice is still possible. Our principal task as journalists is to define that choice and press for accountability, remedy and resolution in our newsrooms and industry."
Chideya advocates for more transparency among news organizations and suggests that "Major news prizes like the Pulitzer and DuPont could require public disclosure of diversity metrics as a qualification for acceptance of the prize. . . .
"Further, journalists might follow the money. Newsroom discrimination settlements requiring non-disclosure agreements are an opportunity for investigative reporters to examine the fiscal and ethical practices of newsrooms. The work of New York Times reporter Emily Steel helped end the Fox News career of Bill O'Reilly, and reshaped Fox News after revealing it had paid tens of millions of dollars in settlements to women in his case and that of network chief Roger Ailes.
"Still, there has not yet been a major journalistic examination of payments by news outlets to settle cases involving race, ethnicity, age and sexual orientation. An effort by ProPublica to crowdsource NDAs may provide further information. . . ."
Elizabeth Méndez Berry, hyperallergic.com: Why Cultural Critics of Color Matter (May 3)
Tanzina Vega with Farai Chideya, "The Takeaway," WNYC-FM, New York: New Report Examines Diversity in America's Newsrooms (audio)
Patricia Thompson to Direct Accrediting Group
Patricia Thompson, assistant dean at the Meek School of Journalism and New Media at the University of Mississippi, will be the new executive director of the Accrediting Council on Education in Journalism and Mass Communications, the university announced on Tuesday.

"Thompson will succeed Susanne Shaw, a professor at the William Allen White School of Journalism and Mass Communications at the University of Kansas, who has been executive director of ACEJMC for more than 30 years. . . ."
ACEJMC is responsible for the evaluations of professional journalism and communications programs at colleges and universities. There are 118 accredited programs, primarily in the United States, but also in Puerto Rico, Mexico, Chile, the United Arab Emirates, Qatar and New Zealand.
According to her bio, Thompson "oversees the editorial and advertising students and staff who produce The Daily Mississippian, The Ole Miss yearbook, NewsWatch Ch. 99, Rebel Radio WUMS 92.1-FM and several websites. She is faculty adviser for The Daily Mississippian and teaches writing and editing courses. She led a multimedia journalism project that won the 2013 Robert F. Kennedy Award for college journalism.
"Thompson has more than 25 years of experience as an award-winning journalist — as a staff writer at The Washington Post and as a senior editor at the San Jose Mercury News and South Florida Sun-Sentinel. She was part of the Mercury News staff awarded the 1990 Pulitzer Prize for general news reporting. . . ."
ACEJMC's headquarters will move to the University of Mississippi.
Obamas to Produce Shows, Films for Netflix
"Former President Barack Obama formally announced on Monday a multiyear production deal with Netflix in which he and the former first lady, Michelle Obama, will produce television shows and films for the streaming service," Michael D. Shear reported for the New York Times.
"The deal will give Mr. Obama an international television platform during his post-presidency, allowing him to reach millions of people in the United States and internationally. The couple has created 'Higher Ground Productions,' a company to produce content for Netflix, the streaming service announced.
"The former president has told associates that he does not intend to use the new platform to wage a public campaign against his successor in the Oval Office, or to fight against conservative voices that populate media outlets like Fox News.
"Instead, a release from Netflix said the Obamas will produce 'scripted series, unscripted series, docu-series, documentaries and features' that highlight issues and themes the president pursued during his eight years in office. . . ."
9-Year St. Louis Reporter Agrees to Drug Program
"Former KSDK-TV (Channel 5) reporter Jeff Small agreed last week to enter the St. Louis Circuit Court drug program on felony and misdemeanor drug charges," Joe Holleman reported Monday for the St. Louis Post-Dispatch.

"Small, 44, of the 2000 block of Hereford Street in St. Louis, was arrested Jan. 6 during a traffic stop. Police discovered that Small had active bench warrants in several jurisdictions and he was placed under arrest. . . .
"Small, who worked at KSDK for nine years, left the station in 2012. He later joined a public relations firm that worked with the city of Ferguson during protests after the August 2014 police killing of 18-year-old Michael Brown. . . ."
Ticketing Disparities Linked to Class as Well as Race
The Kansas City Star "analyzed traffic tickets from 2017 issued by the Kansas City Police Department and processed by the Kansas City Municipal Court and found significant racial disparities among those ticketed," Aaron Randle and Kelsey Ryan reported Sunday for the Star.
"Of the traffic tickets given to Kansas City residents, 60 percent went to African-Americans, who make up 30 percent of the population. Thirty-seven percent of tickets went to whites, who make up 59 percent of the population.

"Among Kansas City residents, speeding is overwhelmingly the top traffic offense for all races — except African-Americans. The top traffic ticket charge for African-Americans is 'state license plate required,' followed by 'no insurance' and then speeding. . . ."
Randle and Ryan also wrote, "But it's not just about race, says Stacy Shaw, founding partner of Stacy Shaw & Associates, a Kansas City law firm specializing in traffic cases.
" 'Race is the superficial candy coating of the M&M,' she says. 'If you want to get down to the good stuff, you've got to begin looking at people's socioeconomic status.'
"Since establishing the firm in 2011, Shaw and her team have tried more than 8,000 traffic-related cases. The majority of the cases dealt with violations stemming from failure to pay insurance, licensing or tag fees.
" 'These are economic-based crimes, they're not poor driver crimes,' Shaw says. . . ."
The Star editorialized Monday, "Unpaid tickets pile up when people lack financial resources. Water bill? Rent? Or pay a traffic fine for a tail light being out? Many choose more urgent needs that affect their home and family. Budgeting becomes a matter of triage.
"Driving while poor should not be criminalized in Kansas City. . . ."
Wedding Drew Big Audience, but It's All Relative
"It certainly seemed like everyone and their sister watched Prince Harry and Meghan Markle get married over the weekend," Toni Fitzgerald wrote Monday for Forbes.
"And the royal wedding ratings were pretty darn big, but not quite everyone watched, according to Nielsen data.
"The ratings company says 29 million people tuned in to the wedding across 15 different broadcast and cable networks. That represents a bit less than a tenth of all U.S. residents, though if you were following the wedding on social media you probably figured every person in the country had a vested interest in whether Meghan wore this designer or that.
"Let's put that ratings number in perspective: . . ."
Chauncey Alcorn and Nicole Bitette, Daily News, New York: Al Sharpton says royal wedding shows white supremacy is 'on its last breath'
Jonathan Capehart, Washington Post: 'The blackest moment in global pop culture since Obama's election night'
Sophia A. Nelson, thegrio.com: As a Black woman in America, here's why Meghan Markle's marriage matters so much to me
Tony Norman, Pittsburgh Post-Gazette: OK, so now I'm cool with royal weddings
Jeneé Osterheldt, Kansas City Star: Meghan Markle will be royalty — but not the great wife hope for black women
Clarence Page, Chicago Tribune: When Harry marries Meghan, a most uncommon commoner
Rochelle Riley, Detroit Free Press: Royal wedding gets a little Black Girl Magic and a true black sermon
Stephen B. Young, Star Tribune, Minneapolis: Thoughts about white privilege after Harry Windsor

He Wisely Covered 'Losers,' Now He Flips Hot Dogs
"The last time I sat in the American Coney Island diner with my old compadre Charlie LeDuff, it's hard to remember precisely what we were doing," Matt Labash wrote Thursday for the Weekly Standard, referring to Detroit's premier hot-dog emporium.
Labash also wrote, "I saw the city through the prism of its bard, Charlie LeDuff, who after a decade-long run as a feature writer for the New York Times (he won a Pulitzer for a month-long stint working the swine-chopping line at a North Carolina slaughterhouse) had willingly punched out of the majors and headed back to the minors, returning to his hometown to work as a metro reporter for the ever-thinner Detroit News.
[LeDuff, whom GQ once labeled "Madman of the Year" and who is one-eighth Native American — Ojibwa — also worked as a reporter for Detroit's WJBK-TV, Fox 2 News.]
"At the Times, Charlie's beat had been covering what he called 'the Hole,' overlooked people in forgotten places. He'd manned the lobster shift at a Burger King and got himself smuggled over the border with Mexican migrants. While readers scarfed down his copy, editors blanched. One told him it was problematic that all he seemed to cover were 'losers.'
"Charlie figured he was in good company. Having long ago anticipated the problems that the 2008 crash, the dissipating middle class, and the Trumpian middle-finger-to-the-establishment would eventually make clear to the rest of us, Charlie knew he wasn't some deranged Cassandra, but more attuned to the news than his editors.
"He told his boss: 'The country's 80 percent losers, and growing every day.' With that, he turned in his walking papers and went home. In Detroit, nobody begrudged his documenting the wreckage, since wreckage seemed to be mostly what was left. As firefighter Mike Nevin, one of Charlie's recurring subjects, told me of the place that was once the incubator of working-class stability: 'Hear the sirens? That's all day long. This is a city where the sirens never stop. It's like a forgotten secret. It's like a lost city.' . . ."
Labash also wrote, "Right after Trump's election, he swept the family photos off his desk into a box and quit his well-paying TV gig. He cut a pilot for A&E, but the proposed docuseries didn't get picked up. He drops occasional columns for a local website, Deadline Detroit. Though he left me wondering if he'd fallen into the Hole himself. Several weeks ago we were on the phone, having a vinegar-session on journalists' favorite subject (how journalism is dying), when he broke the news: 'You could always come work with me.'
" 'Where are you working?' I asked, unclear on his current arrangements.
" 'At the Coney,' he said, 'for about a year now.'
" 'You're kidding,' I said. 'Is it a stunt?'
" 'Nope, though that's what my wife asked,' Charlie said.
" 'You never told me,' I replied, somewhat hurt.
" 'You never asked,' he said. 'Besides, a man's got pride.'
"And indeed, he does. He's too proud to wear the paper hat while working at the Coney. Nor will he work the register. 'I'm not a greeter,' he says. But otherwise, he's all-in as handyman and troubleshooter for Grace Keros, the third-generation owner, who regards Charlie not just as an employee but a friend. Even more so since, when he was still a TV reporter, he chased after and took down a thug twice his size who'd boosted Keros's cellphone. . . ."
Short Takes
"Chicago Sun-Times readers performed a miracle," columnist Mary Mitchell wrote Monday. "Five years ago, you helped send a very deserving Urban Prep Academy graduate to the University of Pennsylvania. Jason Roberts, then 16, was accepted at the Ivy League university, but after receiving about $30,000 in scholarships, he still needed $31,000 to cover tuition, room and board. You raised $22,000 in small, individual donations to help Roberts get over the hump. . . . Roberts finished his courses in December and recently walked across the stage to pick up his bachelor's degree from UPenn, where he majored in cognitive neuroscience, with a minor in linguistics. . . ."

Beware of the well-worn line that Bob Dylan once called Smokey Robinson "America's greatest living poet." Before he died in 2015, Al Abrams, Motown's first employee and first publicist, told Journal-isms by email, "I created some legends that I made up on the spur of the moment. Smokey Robinson — the Bob Dylan quote about him being America's greatest living poet — I made that up. Now, it's been around so much that if you asked Dylan, he'd probably say he said it. I came up with wild stuff." Robinson was in Washington on May 15 testifying on behalf of a bill to extend copyright protection to songs recorded before 1972 (video). 
Bill Whitaker, a correspondent on CBS News' "60 Minutes" who has been a broadcast journalist for nearly 40 years, has won the Radio Television Digital News Association's 2018 Paul White Award, RTDNA announced Tuesday. Named for the first news director of CBS, the award is RTDNA's highest honor.
"A Pennsylvania judge on Friday released the names of the jurors who convicted Bill Cosby of sexual assault last month, saying he had waited more than three weeks after the verdict to do so because he wanted to give the jurors a 'cooling off' period to return to their lives without being bothered by the media," Jon Hurdle reported for the New York Times. "Even so, Judge Steven T. O'Neill of the Montgomery County Court of Common Pleas said in his ruling that the privacy of the jurors had already been compromised by attempts on the part of some news organizations to obtain interviews after the verdict. . . ."
"Black Lives Matter has joined with Color of Change, the National Hispanic Media Coalition and others to call on House members to support restoring FCC net neutrality rules," John Eggerton reported Monday for Broadcasting & Cable. Eggerton also wrote, " 'Net neutrality has enabled people of color to speak for ourselves and tell our own stories and empower our communities without asking permission from broadband gatekeepers on whether our voices are worthy of being heard,' the groups wrote. . . in a letter dated May 18. . . .
Headline from Essence magazine's May 16 promotional email: "Andre 3000's son is literally his twin!"
Report for America, an initiative to strengthen local reporting in communities at risk of becoming news deserts, has selected 10 additional journalists to join three public and nonprofit newsrooms this summer, Ivy Kaplan reported Friday for current.org. They are Carlos Ballesteros, Mallory Falk, Sarah Anne Hughes, Michelle Liu, Samantha Max, Eric Shelton, Ciara McCarthy, Obed Manuel, Manny Ramos and Alexandra Watts.
"Dozens of black Washingtonians gathered at Union Market on Sunday to respond to Washingtonian's ill-fated 'I'm Not A Tourist. I Live Here,' campaign with a photo shoot of their own," Mikaela Lefrak reported Sunday for WAMU-FM in the nation's capital. They "decided to hold the 'Native, I'm From Here' photo shoot after seeing Washingtonian's marketing campaign for its new 'I'm Not A Tourist. I Live Here' t-shirts. Early last week, the glossy monthly magazine posted photos to its Instagram account of millennials modeling the black-and-white t-shirts in a variety of tourist-friendly locations, including the Chinatown gate, the Capitol lawn, and a plant-filled loft. None of the models were black. . . ."
It "might not seem surprising that among Allure's 327 print issues since it began in 1991, there have only been two featuring Asian women picked for the beauty magazine's spotlight," Karen K. Ho, reported Monday for Columbia Journalism Review. "This year, Editor in Chief Michelle Lee decided that needed to change. Allure's June 2018 issue prominently features three Asian models: Fei Fei Sun, Fernanda Ly, and Soo Joo Park. In a heartfelt editor's note, Lee, who has been the title's top editor for more than two years, explains how her work increasing diversity at the magazine and in her public speaking revealed a new insight about inclusivity. . . ."
"Veteran TV exec Vernon Sanders has joined Amazon Studios as co-head of television," Daniel Holloway reported Monday for Variety. "He will oversee creative and production units for Amazon Prime Video. Sanders will work alongside Albert Cheng, who was named co-head of TV in a reorganization of Amazon's entertainment division under new top executive Jennifer Salke in April. . . ."
"Manny Ruiz, founder of the Hispanicize Media Group (HMG) company that owns the iconic Hispanicize events, DiMe Media, Hispanic Kitchen, and Latina Moms, announced today he is departing HMG effective May 31," the company said in a May 15 announcement. Hispanicize is described as "one of the most important events for Latinos in tech and digital media in the United States." Ruiz said his decision was based "solely on my intense desire to launch a major new venture," but that as "the founder, largest individual shareholder and board member of HMG, I plan to be actively engaged with Hispanicize and will use my voice to continue to make sure the company keeps its soul, representing the Latino community that we serve. . . ."
"After 19 years at FOX 4, it's time for Saul Garza to say goodbye," (video) KDFW-TV in Dallas said Thursday in introducing a good-bye to Garza, who has joined the city of Garland, Texas, as social and media relations manager. Garza, a former president of the Dallas-Fort Worth chapter of the National Association of Hispanic Journalists, is credited with revitalizing the group.
"The New York Times, Anonymous Content, Paramount Television, and 3dot Productions are developing an original series titled Overlooked, based on the groundbreaking, eponymous reporting in The New York Times, which highlights the stories of notable women who did not receive obituaries in The Times," the Times Co. announced Monday. Charlotte Brontë, Henrietta Lacks, Ada Lovelace and Ida B. Wells were some of the prominent women belatedly receiving obituaries.
"Robert Barba is leaving personal finance website Bankrate," Veronica Villafañe reported Monday for her Media Moves site. "His last day is Friday, May 25. He's moving on to Dow Jones Newswires and The Wall Street Journal, where he has accepted a position as Deputy News Editor on the Spot News team, which focuses on real-time coverage, including stories on mergers and acquisitions, executive changes and quarterly results. . . ." Barba is a board member of the Society for Advancing Business Editing and Writing (SABEW).
"Human rights abuses in Guatemala are very similar to those in the Yaqui and Lakota territories of the country's immediate northern neighbors — Mexico and the United States — the U.N. Special Rapporteur on the Rights of Indigenous Peoples said in an exclusive interview May 9, Talli Nauman reported Thursday for Native Sun News Today. "Special Rapporteur Victoria Tauli-Corpuz spoke to the Native Sun News Today from the capital of Guatemala, at the end of a 10-day fact-finding trip to the 65-percent indigenous country in Central America. . . . indigenous peoples' rights to land, territory, and resources are very much violated,' she said. . . ."
"Online defamation and fake news are punishable by long jail terms under Kenya's new Computer and Cybercrimes Act, which President Uhuru Kenyatta signed into law on 16 May," Reporters Without Borders said. It "condemns its disproportionate penalties as a threat to press freedom. . . ."
The Committee to Protect Journalists said Tuesday it welcomed a ruling Monday by Lesotho's Constitutional Court "that criminal defamation is unconstitutional, calling it a significant step toward safeguarding press freedom in the country. . . ."
An opinion writer and three newspaper executives in Fiji were found not guilty of sedition, Litia Cava reported Wednesday for the Fiji Times." Nick Perry reported Friday for the Associated Press, "The case has major implications for press freedom in the South Pacific nation. Many people consider the Fiji Times to be the last independent media voice in a country where many news outlets kowtow to the government. . . ." Publisher Hank Arts said, ""It is a victory for the media in Fiji and we should be encouraged to keep going and to stay within the law."
---
Support Journal-isms Go Fund Me page.
Richard Prince's Journal-isms originates from Washington. It began in print before most of us knew what the internet was, and it would like to be referred to as a "column." Any views expressed in the column are those of the person or organization quoted and not those of any other entity.
Send tips, comments and concerns to Richard Prince at journal-isms-owner@yahoogroups.com.

Follow Richard Prince on Twitter.
Like "Richard Prince's Journal-isms" on Facebook.
Journal-isms is originally published on journal-isms.com. Reprinted on The Root by permission.