The University of Louisville men's basketball program has been rocked to its core by scathing allegations from a former escort who claims that she and several women, including two of her daughters, were paid to have sex with players and recruits considering attending the storied university. 
On Tuesday, several former Cardinals players told ESPN's Outside the Lines that claims made in Katrina Powell's tell-all book, Breaking Cardinal Rules: Basketball and the Escort Queen, are true. 
"I knew they weren't college girls. It was crazy. It was like I was in a strip club," one of the former players told ESPN. All of the players were given anonymity by ESPN to tell their side of the story.
According to Powell, who also spoke with Outside the Lines, Cardinals graduate assistant Andre McGee, who lived in the dorm with the players, paid Powell some $10,000 from 2010 to 2014 to provide women for stripper parties inside the campus dorms. She claims that those women who were willing to earn extra cash were paid to have sex with highly touted high school players who were considering the university.
Powell told OTL that she "knew this day would come" when she would need to prove that these parties filled with sex and alcohol actually happened, so she kept a journal, phone records and text messages, which she provided to the sports site to prove her claims.
G/O Media may get a commission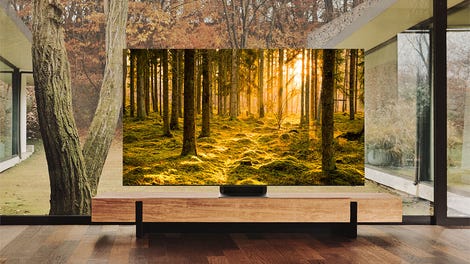 Up to 40% off
Samsung Smart TVs
ESPN independently verified one money wire transfer from McGee to Powell that happened after McGee left the school.
Coach Rick Pitino, who led the Cardinals to a national title in 2013 and is a member of the Basketball Hall of Fame, has denied any knowledge of parties or of women being paid to have sex with recruits.
"I am shocked over this," Pitino told the Indianapolis Business Journal. "My heart is just taken out of my body and broken." Pitino told the newspaper that when he first heard the allegations, he spoke with former players and coaches, including McGee, about the book's allegations, and all of them denied knowing anything about it. 
"I will let Andre speak for himself," Pitino said. "But at no time did he own up to anything that is being printed."
Powell told OTL that she finds Pitino's claims of innocence hard to believe and says that on one occasion she asked McGee if Pitino knew that she had become a part of the recruiting team, which is what she believed herself to be.
"I said, 'Does Pitino know about this?' And he said, 'He's Rick. He knows about everything,' " Powell said. "Four years, a boatload of recruits, a boatload of dancers, loud music, alcohol, security, cameras, basketball players who came in[to the dorm] at will … "
Powell's most shocking confession may not have been about the university or its players; she also claims that she arranged for two of her daughters to have sex for money.
Lindsay Powell, 24, told OTL that she was paid $100 to have sex with former Louisville point guard Russ Smith, who now plays with the Memphis Grizzlies and was the starting point guard for the 2013 championship team. Smith declined to comment, according to ESPN.
Rod Ni Powell, 22, claims that she had sex with former Louisville player Montrezl Harrell, a top national recruit who now plays with the Houston Rockets. As allegations surfaced earlier this month, Harrell told the Houston Chronicle: "I don't know anything about it. I didn't too much stay at the dorm. I stayed off campus. I had a girlfriend off campus. … It was pretty shocking that took place, if it did. I'm right there with Coach [Pitino], as shocked as he is."
According to ESPN, both the NCAA and Louisville are looking into these allegations.