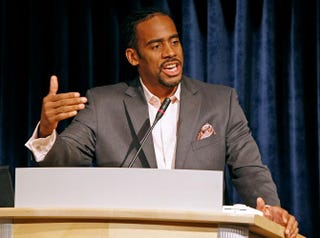 Former BET host and producer Jeff Johnson will be joining Democratic super PAC Priorities USA as a consultant, handling part of the group's $5.3 million advertising budget focused on black and Hispanic markets, All Digitocracy reports. 
Priorities USA is supporting Hillary Clinton for president, and Johnson, who is president of his Baltimore firm, JIJ Communications, will help direct the group's efforts to appeal to black voters as Election Day approaches. According to the report, Priorities has committed to spending $5.3 million to reach black and Hispanic voters. 
"We're excited that Jeff is bringing his unique skills and expertise to the Priorities USA team," Chief Strategist of Priorities USA Guy Cecil said in a statement. "Republicans have already spent $8 million attacking and distorting Hillary Clinton's record, and bringing Jeff on is the latest in a series of steps Priorities is taking to gear up for a general election where we will aggressively draw a contrast between Hillary Clinton and Donald Trump."
Johnson, for his part, is excited about joining the team and helping Clinton secure as many votes as possible. 
"This election is shaping up to be the most important choice facing the American people in decades, and I couldn't be more excited to join the Priorities USA team to help elect Hillary Clinton," said Johnson. "Hillary is the only candidate strong enough to take on Donald Trump in November, and she has the vision, temperament and experience to raise wages, break barriers and protect our country."
Read more at All Digitocracy.