A funny thing happened to the movie New in Town on the way to your local multiplex: Angela Bassett morphed into Gabrielle Union, who then became Renée Zellweger.
This is not entirely shocking. "Colorblind" casting has been around for a while. Remember that the drill sergeant in An Officer and a Gentleman was slated to go to a white actor, until Louis Gossett Jr. (who won an Academy Award for best supporting actor) read for the part. Sylvester Stallone was supposed to play the not-by-the-book fuzz in Beverly Hills Cop, a role that went to Eddie Murphy, and the rest, as they say, is history.
But with this romantic comedy, which opens today and stars Zellweger and Harry Connick Jr., the lead was supposed to be a black actress and the writer had someone in mind from the very beginning. "I initially wanted Angela Bassett," says Kenneth Rance, the screenwriter. "I'm a big fan of her work. And Gabrielle Union was initially cast."
Rance, 38, who graduated from Howard University with a degree in film, based the tale on a woman he met in his native Minneapolis over 16 years ago. "I was in a nightclub, and I saw this attractive woman who was dancing like there was no tomorrow," Rance told me. "And I was like: 'Who is she?'"
Come to find out, after he bought her a few drinks, she was up from a dot on the Minnesota landscape called New Ulm, population 13,575. A native of North Carolina, she had worked in larger cities. But in an effort toward career advancement, she took a position for her company in this outpost. What she quickly realized was there were only four other blacks in the town, and they were all men.
G/O Media may get a commission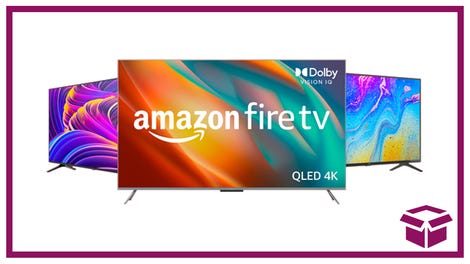 Ooh. stunning.
New Amazon Fire TVs
As he spent more time with the woman, Rance was convinced she was a movie character in waiting. "I wanted to write a film about loneliness," he now says. "I never set out to write a film about race." Though his agent initially didn't think anyone would buy it, the script was snapped up by Universal five years ago. The studio then promptly excused Rance and brought in another writer. Rance was later recalled by Gold Circle Films and Lionsgate to be his own script doctor. (The other writer, C. Jay Cox, also gets billing credit.)
But by then, the black woman from North Carolina was a white woman from Miami, and voila, Fargo meets Baby Boom. Rance admits some disappointment at the turn of events, but he's a practical man. "When you start looking at who can open a film, the marketing, worldwide distribution etc., it makes sense," he says. "That's not how I felt personally about it, but it shouldn't be called show business but 'business show.'"
It has been repeatedly noted that outside of Will Smith and maybe Murphy, no black actor—no, not even Denzel or the ubiquitous Samuel L. Jackson, and certainly no female black actress, even the exquisite Halle Berry—can open a film with the big box office bang that Hollywood now demands, and none can be counted on for the huge sales overseas that are now critical to a movie's success. Sure, it happens in buddy films (see: Chris Tucker with Jackie Chan). But by their lonesome? Not a chance.
"It wasn't until Halle won the Oscar for 'Monster's Ball'," says Rance, "that I thought people were ready for a black female lead." Obviously, they are not. Even as actresses such as Taraji P. Henson (The Curious Case of Benjamin Button) and Viola Davis (Doubt) prove their mettle with Oscar nominations, albeit for supporting roles, the movie terrain remains uneven for black talent, particularly black female talent. At least during the Blaxploitation heyday, Tamara Dobson and Pam Grier got top billing.
Still counting goose bumps in the wake of the film's well-received premiere in his hometown, Rance is hopeful that other black filmmakers would get more opportunities, whether they were culturally specific or not. "It does give me hope that the industry is becoming more open-minded," he says. But on the other hand, in the age of Obama, "the world is browning. Yet the images that we see are more conservative."
Nick Charles is a regular contributor to The Root.