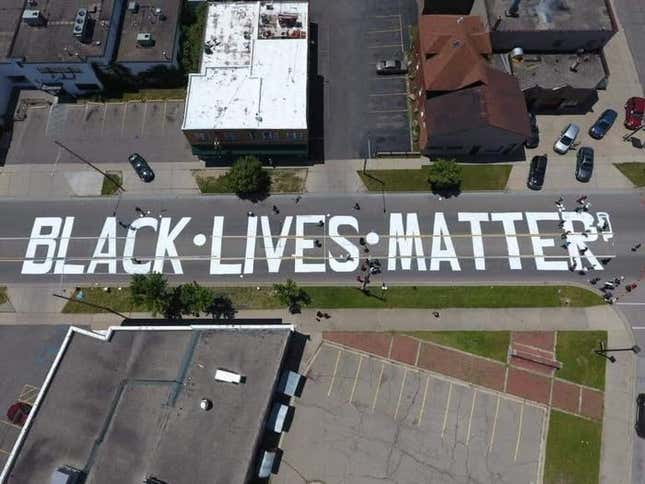 The city of Flint, Michigan declined to allow local organizers to repaint and rededicate the massive Black Lives Matter street mural, according to MLive-The Flint Journal. However, local activists and residents believe the city is just making an excuse to do away with the project.
Small Town Horror Story: The Killing of Aiyana Mo-Nay Stanley-Jones
Out of summer of 2020 birthed a Black Lives Matter street mural in nearly every major city all the way to 16th Street in Washington D.C., leading directly to the White House. As expected, the paint from 2020 may need a touchup by now so the Traditional Flint Juneteenth Celebration organizers made moves to refresh the BLM mural on MLK Boulevard. Though the mural was initially supported by Mayor Sheldon Neely, the city declined to let volunteers repaint it but their reason as to why is a little sus.
City Administrator Clyde Edwards told The Journal the reason was because the mural would pose traffic safety concerns. Then, he pulled the Michigan Department of Transportation into it, saying they were looking to prohibit street murals and would be forced to shut down the street if painted. However, a spokesperson from the department clarified that they wouldn't have a say on whether murals can be painted nor would they shut down ML Boulevard in the event of a repainting.
So… what's really the problem? Local BLM activists want to know.
Read more from The Flint Journal:
DeWaun Robinson, founder and president of Black Lives Matter Flint, said city officials didn't maintain that support as plans were made to restore the mural — something he isn't giving up on.

"They came up with every excuse they could" for why the mural couldn't be repainted, said Robinson, who said organizers submitted an event plan for the repainting and met with city officials about it.

"They didn't want to support it. That's just what it is," he said. "What it comes down to is they didn't find any way to help push this across" the finish line.
Cities have often pushed back on any BLM-related artwork once the heat of summer 2020 died down. The city council of Wilmington, North Carolina voted to take down a BLM mural from a local park for seemingly no reason other than a two-year time limit for "public speech art."

Flint's concern for drivers and pedestrians is reasonable considering the yards of wet paint. Though, if accommodations were made for original installation of the mural back in 2020, maybe they can still be made for the touchup.