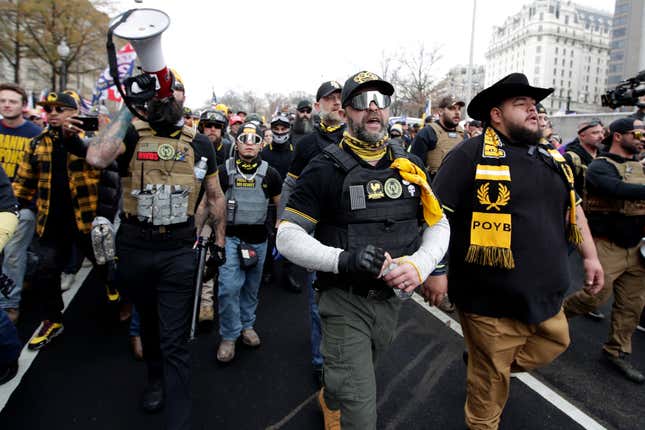 On Friday, a judge awarded more than $1 million to Metropolitan African Methodist Episcopal Church in downtown Washington, D.C. The historic Black church sued the Proud Boys for tearing down and burning a Black Lives Matter banner during one of their racist protests in 2020.
Comedian London Hughes Talks New Book, Parents Watching Her Very Sexual Comedy, & Beyoncé
In addition, Superior Court Associated Judge Neal A. Kravitz banned the hateful group and its leaders from being anywhere near the Metropolitan African Methodist Episcopal Church or making threats or defamatory remarks against the institution—or its pastor—for five years.
However, the ruling turned out to be a default judgment issued after the defendants refused to show up in court. In December 2020, two Black Lives Matter banners were ripped down from Metropolitan AME—as well as another historically Black church—and burned during battles between Trump supporters and the former president's detractors.
Desecration left behind by the Proud Boys happened after weekend rallies by thousands of Trump supporters who believed his false claims that he won a second term. These events were the cause behind dozens of arrests, stabbings and police officers being injured.
It also led to Metropolitan AME suing the Proud Boys and their leaders, stating that they violated D.C. and federal law by trespassing and demolishing religious property in a bias-related conspiracy. The hate group's leader, Henry "Enrique" Tarrio, publicly admitted to setting fire to one banner. Prosecutors said it was one that was stolen from Asbury United Methodist Church.
Tarrio pleaded guilty in July 2021 to two misdemeanor criminal charges of property destruction and attempted possession of a high-capacity magazine. He was eventually sentenced to more than five months in jail.