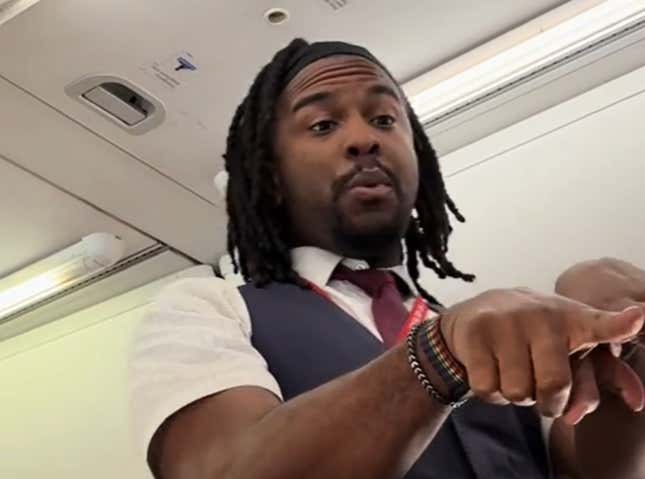 Whether you're a frequent flier or only get on a plane once every few years, traveling can feel exhausting and tedious. From going through security, to trekking across the airport to find your gate, to boarding and finding your seat, flying is A LOT. By the time the plane is ready for takeoff, you're in no mood for the well-known pre-flight safety video. However, passengers on a recent American Airlines flight from Chicago to Phoenix got an entertaining show with the safety instructions, courtesy of flight attendant Stefan Peters.

Courtney B. Vance in Heist 88 Is Our Black TV Pick of the Week
Peters went viral for his hilarious lip-sync of the video after a passenger filmed it and posted it on TikTok. He didn't miss a word during the unforgettable interpretation of the well-known information. The performance shows him delivering the lines from the video and acting out crucial moments in hilarious fashion.
At one point, when the voice on the video is referencing the plane's exit doors, it says, "Take a moment to locate the nearest one and keep in mind, it may be behind you," prompting Peters to gesture behind him in a shocked manner. The rest of the video concludes with him enthusiastically acting out the instructions, making illuminated exit lights, oxygen masks and life vests sound more exciting than they've ever been. For Peters, it's about the safety information being memorable for passengers.
"A lot of times with people who fly a lot, they tend to zone out during the safety demonstration," Peters told The Advocate. "One of the most important parts of my job is giving safety demonstrations because, first and foremost, flight attendants are there for safety. So, I started doing it as a way to engage people to pay attention."
While he's giving his presentation, a passenger begins reading the safety card, which is the whole reason Peters goes above and beyond with the safety video.
"The fact that in that video, a guy pulls out the safety card, I love that because that means I'm doing my job of informing you of the safety features, and in the unlikely event that's something [were] to happen that you'll be prepared," he said. "You'll remember it."
Of course, because we can't have nice things, not all flight attendants are happy with Stefan's entertaining version of the safety instructions. Some of them view his performance as unprofessional.
"I look at it as I personally feel I'm not taking away from anything, I'm not taking away from the demo," he said. "I'm simply adding a little bit to it in a way that captures people's attention and kind of forces them to pay attention to me."
At the end of the day, for Peters, it's about keeping passengers safe and he feels that his safety instructions do just that.
"Ultimately, the goal is to make people pay attention because, again, if something were to happen, my job as a flight attendant is to be able to get passengers safely off a plane in 90 seconds or less, and I take that very seriously," he said.
Sure, his way is unconventional, but it's also memorable. If it keeps people from checking out during the safety video, then Stefan is doing his job. And if he's making the flight slightly more fun, then thank you from those of us who are exhausted with the mere act of getting to the plane.