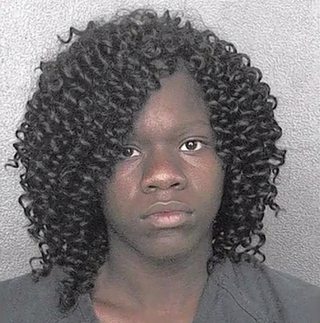 It was all a mistake.
That's what 19-year-old Breona Watkins said in a court appearance on Wednesday after she was arrested when authorities found her baby in the trunk of her car during a traffic stop, CBS News reports.
According to the report, the discovery started out as a routine traffic stop over a broken headlight. However, Watkins did not immediately pull over but drove for about another quarter-mile.
Deputies discovered that in the time it took her to stop, the young mother had asked a 14-year-old passenger to hide the baby in the trunk so that she wouldn't get a ticket for not having her baby in a car seat.
The authorities did not realize there was a baby in the trunk until they took Watkins to the squad car because she was driving without a license. It was then that deputies heard cries coming from the trunk.
CBS News said that the baby was discovered lying on a pair of large, bush-cutting shears, a rusty metal hanger and a rusted tire iron, among other items. There was also reportedly a used gas can in the trunk, a used fuel pump, plastic bags and other dangerous items.
Watkins has been slapped with charges ranging from child abuse without great bodily harm and resisting an officer without violence to operating without a valid driver's license, CBS News notes, and is currently being held on $7,000 bond.
The 19-year-old's grandmother, who is reportedly seeking custody of the 5-month-old, said that Watkins was a good mother and just didn't make a great decision on the spur of the moment. The child is currently in the care of the Florida Department of Children and Families.
Read more at CBS News.