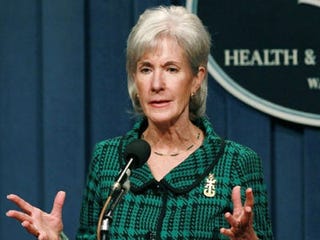 Health and Human Services Secretary Kathleen Sebelius has announced that the federal government will phase out funding for a Texas health program that serves low-income women, according to the Associated Press.
Funding for the Women's Health Program, which serves 130,000 low-income women in the state and gets 90 percent of its dollars from the federal government, will be phased out between May and November because of a state law that bars abortion-affiliated clinics from getting public money. Sibelius says that the state law violates federal Medicaid rules requiring that women have a choice in medical care.
The program joins a long list of other programs nationwide that are being cut because of their affiliation with Planned Parenthood or other abortion-related groups. The Women's Health Program provides cancer screenings, family planning and other women's health services. About 44 percent of women in the Texas program go to Planned Parenthood clinics.
Gov. Rick Perry blasted the Obama administration for the move and vowed to find state funds to cover the program's budget, although the state has had massive spending cuts in the last year because of a $15 billion deficit. "The fact that the Obama administration would announce its decision to deny care for more than 100,000 low-income women during a press event before giving official notice to the state is a clear demonstration of the political motivation behind this decision," he said in a statement.
Democratic Rep. Sheila Jackson Lee said that she and other members of Congress are negotiating with Sebelius and federal officials to find a way to ensure that the funds don't stop flowing.
Read more at the Associated Press.