You've seen them on screen, on the red carpet and often, right here on The Glow Up. And now, just in time for New York Fashion Week, several of our favorite fashionable celebs have landed on Vanity Fair's Best Dressed 2018 list!
And because we're always rooting for everybody black (it's our job, as well as our favorite pastime), we've compiled a sublist of VF's best dressed black folks. Unsurprisingly, there are a few usual suspects—and a few we simply shrugged at—but let's get into it.
Tracee Ellis Ross
Ross was not only born into divadom but worked in fashion and counted Ralph Lauren's kids among her childhood friends before her now award-winning acting career took off. In a Vanity Fair-produced video (above), she traces the trajectory of her now-inimitable style—in classic Tracee Ellis Ross style. Obviously, her style icon is mom Diana, whom she borrowed heavily from in her pre-stylist years. And now?
"I really just wear what makes my heart sing!" she says. "I feel like I came out of my mom's womb like, "Where's the beads?!?"
G/O Media may get a commission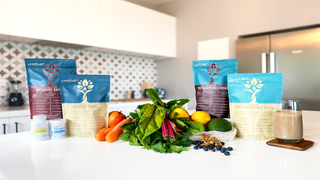 If you're looking for a knight in shining architecture, Sir David Adjaye is your dude (no really, he's a knight). Born in Dar es Salaam, Tanzania, the Ghanaian-British Adjaye is one of the world's foremost architects—he designed the National Museum of African American History and Culture, otherwise known as "the Blacksonian." Apparently, he constructs his outfits with equal care, and his pro tip is the same as ours: "Always mix high fashion with high-street fashion."
Jay-Z
Our sneaking suspicion is that if you stand next to Beyoncé long enough, you automatically get more stylish (though Queen Bey did not make it onto this year's list, all-designer tour wardrobe be damned). But if anything qualifies the elder Sir Carter for a nod, it's that he's clearly continued to allow his style to evolve, taking us on a journey from Brooklyn street hustler to top designer name-checker to very tailored mogul—and back again, as his heart desires.


Donald Glover
Donald Glover's most famous look to date may be sans shirt, but on the red carpet, onscreen and onstage as Childish Gambino, he's adopted a pseudo-'70s aesthetic that makes it easy to see why he was he was a shoo-in for reprising the role of Lando Calrissian ... because no one since Billy Dee (except arguably, Andre 3000) has pulled off that particular brand of swag better.
LeBron James
Part basketball phenom, part philanthropist, part family man, and part fashion plate, LeBron James is the ultimate renaissance man—okay, maybe one-and-a-half of them. His penchant for tailored, cropped-leg suits and innovative ideas and designs keep him current, but he remains down to earth in his fashion choices, telling Vanity Fair: "I keep in mind that comfort, confidence, and what feels natural play a big part in style."
And isn't philanthropy always in fashion?
Lakeith Stanfield
Lakeith Stanfield may still be adjusting to his newfound Hollywood leading man status—while risking becoming a problematic fave—but if he remains a fave, it's because he proudly wears his quirks and curiosity on his sleeve.
For instance, he tells Vanity Fair: "[In 2015] I told my stylists I wanted to wear a women's suit [to the LA Film Festival], and they found one. It was brilliant and beautiful, and I was like, "Yes, yes, yes, yes. I have to do this ... When it comes to my style, I do what feels right. What people think about you is in their mind, not yours. But I am a little bluebird flapping around."
That said, his favorite shoes are his Gucci loafers.




Jenke Ahmed Tailly
Jenke Ahmed Tailly is one of the fashion industry's most enduring and unsung staples. The Côte d'Ivorian styling veteran has worked (repeatedly) with Beyoncé, Naomi, and Kanye's wife, and counts among his personal network folks like his favorite designer, Hedi Slimane, and the late, great Azzedine Alaïa. When VF asks his style motto, he responds: "Style is not about clothes; it's about dreaming."


Lauryn Hill
Lauryn Hill—sorry, Ms. Lauryn Hill—may not ever arrive anywhere on time, but she always knows how to make an entrance. Over the past two decades since her meteoric solo debut, Hill has become known for making eclectic and unapologetically eccentric fashion statements, often via unexpected layers of looks from major designers.
It's an acquired taste, but one that has made Hill's style as strikingly recognizable as her voice—which may be why she's currently starring in her first fashion campaign and design collaboration with Woolrich.


Rihanna
No one's surprised to see Rihanna on Vanity Fair's best-dressed list; the musician, actress and mogul changes looks as fast and fantastically as her character in 2017's Valerian. Her looks are regularly cataloged as iconic (just ask the CFDA), and yet somehow, she always manages to keep one-upping herself.
And then, there's the fact that, after co-hosting this year's Met Gala, Rih's also closing out this year's NY Fashion Week with an immersive show from her newest mind-blowing venture, Savage x Fenty lingerie. When we think about this bad gal's fearless style, it's safe to say we've got love on the brain.


H.R.H. Meghan, The Duchess of Sussex
Her minimalist royal wedding dress will be forever be etched in our collective imagination, but it was Meghan Markle's second dress of the day, designed by Stella McCartney, that gave us a glimpse of the modern-day duchess Markle has now become. She may still be finding her stride in her new royal life, but like Prince Harry, the world can't seem to keep its eyes off her.
Serena Williams
Ahh, Serena. Slayer of inferior players and steadfast fashion lover, Williams stays committed to making style statements on the court and off—just check out her collaboration with Off-White x Nike for this year's U.S. Open, or her own steadily growing eponymous line. But while we've pledged our undying love to the G.O.A.T., we were admittedly slightly surprised to find her on this list, as we sometimes find her hit-or-miss (off the court, that is).

Then, VF's fashion director Samira Nasir reminded us how the phenom paired her Valentino gown with tennis shoes for Harry and Meghan's wedding reception. "[F]earless and original," Nasir wrote. With that, we'd have to agree.


Duro Olowu
Nigerian British designer Duro Olowu is not only one of our all-time favorite designers (and Instagrams to follow) but is one-half of one of the most fashionable couples ever, as he's married to Studio Museum of Harlem Director and Chief Curator Thelma Golden. In fact, we surprised that Golden wasn't also on this list—until we realized she was on the jury of judges. But while Olowu and Golden's life may appear impossibly glamorous, we were relieved to see that his style advice is both relatable and practical: "For the classics, always get multiples."


Yara Shahidi
I mean, come on ... was there any question? Yara Shahidi is the epitome of young, gamine chic—with a serious socially-conscious streak. And it shows in her fashion choices, which are always of-the-moment, but like her, are also more than meets the eye. "Yara always looks chic and cool, but age-appropriate. She chooses looks that are fresh, playful, and still fashion-forward," said Nasr.


Zoë Kravitz
For an edgier take on the ingenue, look no further than Zoë Kravitz. The 29-year-old may have learned from the best—Lenny Kravitz and Lisa Bonet are fashion icons in their own right—but she puts her own individualistic spin on a style that elevates her far above most other famous progeny. Having appeared in not only Hollywood blockbusters but in campaigns for Saint Laurent, Calvin Klein and Balenciaga, it's clear Kravitz is a muse to be reckoned with.
It's quite an ensemble—but is that all? Vanity Fair may have only honored 14 of our style stars with the honor of "Best Dressed," but here are 14 more who could've easily made the list (in no particular order). Feel free to add your faves in the comments!