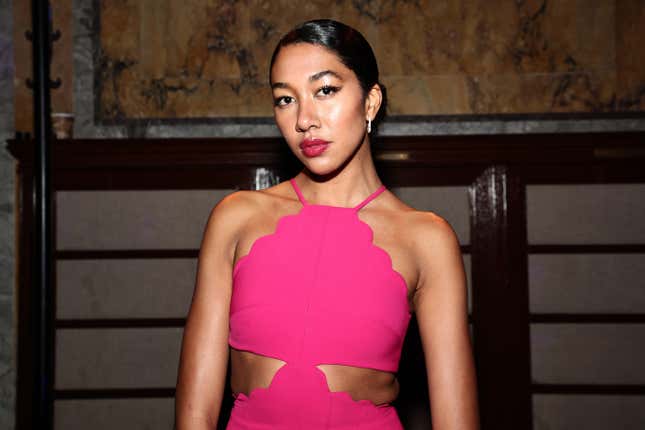 It seems everyone has an opinion on the Simmons family's very public drama.
After Ming Lee Simmons sent a Happy Father's Day message to her mother Kimora Lee Simmons on Sunday, the Baby Phat designer posted an emotional video revealing the truth behind Russell Simmons' fractured relationship with his daughters. The former couple's 20-year-old daughter, Aoki Lee Simmons, posted a series of Instagram Stories where she described how her father has "threatened and bullied" her, her sister and her grandmother. She also explained that "he's been awful to me for years."

Beyoncé Becomes The Queen of The Grammys With Record Wins
As we all know, whenever a Black woman stands up for herself and expresses her value in the world, it doesn't take long for misogynistic assholes to show up in her mentions to tell her she should stay in her place. Thankfully, Aoki is not having it with the harassment and attacks on social media, posting an Instagram Story on Wednesday, where she lets all these jerks know exactly what she thinks of them.
Alongside a photo of her father with her as a child, she wrote, "Until a short time ago, this is the man who told me 'always defend and look after your mother girls' and 'never let a man curse at you, you call daddy if a man ever tries to yell at you or scare you that's never ok! Real men don't shout at women and girls,'" according to People.
"So to all the toxic men in my comments using 'I'm defending him' to be foul and talk about all the grievances you have with women, you can save it," she continued. "It's pathetic. He would agree I know that for sure."
She concluded by quoting Russell, writing, "Always defend your mother and sister. Don't let any man talk to you crazy." She then closed with "I'm just following instructions here ppl."
Aoki commented on the "misogynistic stereotypes and names, absolute hate for women of color" by asking these trolls, "I wonder how your mothers, sisters, daughters, nieces, girlfriends, wives, would feel after seeing some of the sexist, racist, honestly foul comments and messages some of you 'men' are leaving me?"
I know the men who are calling her disgusting names don't care, but she's speaking her truth on her experience. Discussing how her father allegedly cut his daughters off and treats them terribly does not make her a bitter Black woman, it just makes her a young woman with a complicated relationship with her father.
And all of you misogynists rushing to run down Aoki, Ming and Kimora, while vehemently defending Russell, don't ever forget that this man has been accused of sexual assault by several women. That's the person you're so quick to defend.