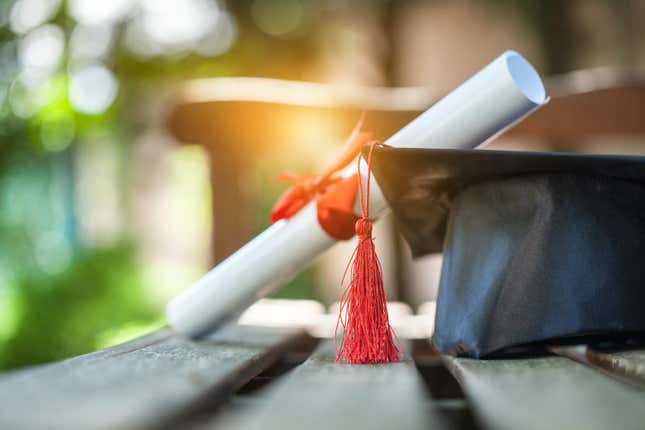 When you go the hospital, you trust that the nurses who take care of you have completed an accredited nursing program, have passed their licensing exams and have gone through rigorous training. But federal investigators in Florida just discovered a widespread plot to help some aspiring nurses get around one of those "pesky" steps that is both shocking and scary.
Twenty-five people in Florida were hit with federal charges this week after investigators found that they participated in a money-making plot to sell fake nursing diplomas and transcripts from accredited nursing schools.
As the Tampa NBC affiliate reports, the Department of Justice says the shady scheme involved over 7,600 fake diplomas sold to aspiring nurses since 2016. And at $15,000 a piece, the crooks could have swindled $114 million from people hoping to find work as registered nurses (RN) and licensed practical nurses/vocational nurses (LPN/VN).
According to the Department of Justice's investigation, the fake diplomas came from three South Florida-based nursing schools – Siena College, Palm Beach School of Nursing and Sacred Heart International Institute – and allowed the recipients to sit for nursing board exams and ultimately obtain licenses and employment in states around the country. Those schools are now closed, and the schemers now face up to 20 years in prison.
Marcellyne Penny, Associate Dean of Nursing at Hillsborough Community College, says changes need to be made to the certification process.
"I'm very passionate about integrity," she said. "There are no shortcuts in nursing, and when you do take a shortcut, sooner or later, it's going to catch up with you."
Speaking on the investigation, Chad Yarbrough, Acting Special Agent in Charge FBI Miami, said he is glad investigators were able to stop this scheme before it got out of hand.
"What is disturbing about this investigation is that there are over 7,600 people around the country with fraudulent nursing credentials who are potentially in critical health care roles treating patients. Were it not for the diligence and hard work of the investigators on this case, the extent of this fraud may not have been discovered, " he said.