The Rev. Kenneth Glasgow, 52, national president and founder of the Ordinary People Society, or TOPS, and a renowned voting-rights organizer and veteran criminal-justice and drug-policy-reform activist, is currently facing capital murder charges in Dothan, Ala., for allegedly being complicit in the shooting death of Bruenia Jennings, 23.

On March 25, authorities say, Glasgow, the half brother of the Rev. Al Sharpton, founder of the National Action Network, was driving two other people to a voting-rights training in Georgia when Jamie Emmanuel Townes, 26, stopped him and asked for a ride so that he could find his car—a car Townes believed must have been moved as a joke. The pastor, who recognized Townes from the Dothan community, agreed and Townes entered the vehicle. At some point, according to officials, Townes spotted Jennings driving his car; he then exited Glasgow's vehicle and allegedly shot at Jennings multiple times, with at least one bullet striking her in the head.
Although Townes, according to authorities, was identified as the shooter by the other two passengers who had remained in the car with Glasgow, the pastor is still being charged as an accomplice in the case under Alabama's broad complicity statute.
At an April 6 preliminary hearing, presiding Judge Benjamin Lewis, who is up for re-election in November, seemed to vigorously challenge the prosecution for failing to put forward a legitimate case against Glasgow.

​"[B]ased on what you've gathered from your evidence is they were clearly looking for the car, and at some point the defendant, Townes, exited, did all the shooting, never re-entered the car," Lewis said, according to the transcript of the preliminary hearing obtained by The Root. "What is it he [Glasgow] did other than pick him up and give him a ride, really?​
G/O Media may get a commission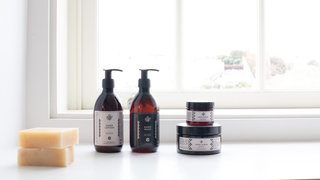 Exfoliate and Hydrate
The Handmade Soap Company
The judge continued to challenge the prosecution: ​"[T]here's no evidence [Glasgow] even had any knowledge [Townes] had a gu​n ​... [and] there's still no crime or any attempted crime being committed ​...​ if he's just assisting, other than trying to locate the man's vehicle ​... ​I don't see any evidence ​... [of] ... ​any intent to commit some type of felony offense."
Lewis' rigorous challenge to the prosecution, however, left those who were in the packed courtroom stunned by his decision April 10 to bind the case over to the grand jury as a capital charge.

"It should have been dismissed, outright. There was clearly no case, and it was clearly politically motivated because of Pastor Glasgow's successful work against the drug war and the new Jim Crow," said Daryl Atkinson, co-director of Forward Justice, and a part of Glasgow's legal defense committee.

Both Glasgow and Townes face life in prison or execution if convicted. The other two passengers who were in the vehicle with Glasgow and Townes at the time of the shooting have not faced any charges to date.

Activists and organizers from across the nation have rallied around Glasgow; not simply because the charges against him are flimsy, at best, but because of Glasgow's lifelong work and dedication to his community, specifically around voting rights.
A stunning 15 percent of Alabama's black residents have been disenfranchised, and that is not by happenstance.
---
Glasgow became aware over a decade ago of Alabama's "moral turpitude" clause, a vague provision in Alabama's constitution that barred people incarcerated on felony charges, many of whom were black, the right to vote based on nothing but the corrosive intentions of a white supremacist state that was able to use the war on drugs as cover.

Glasgow sued the state and won. This allowed him to enter prisons and educate incarcerated people about their right to vote, which is a critical part of his ministry. Eventually, in 2017, Alabama passed the "Definition of Moral Turpitude Act" (pdf), effectively restoring the right to vote to thousands of people in the state.
In December 2017, Glasgow's tireless work contributed to the upset victory of Doug Jones in the special senatorial election in which Donald Trump had supported Jones' opponent, accused child molester Roy Moore.
Though Glasgow had been organizing for decades, it was his influence in that contentious Senate race that pushed him into the national spotlight. In the weeks leading up to the election, Glasgow mobilized TOPS branches in the Alabama cities of Tuscaloosa, Birmingham, Montgomery, Enterprise, Dothan, Abbeville, Geneva, Gordon and Bessemer, and registered thousands of formerly and currently incarcerated people, many of whom were serving time for low-level drug crimes and other petty offenses.
For Glasgow, these are his people—and he is going to meet them where they are, come hell or high water. Indeed, on the night of Jennings' death, Glasgow was driving two people to a voting-rights training in Georgia, one of whom he was then going to take to rehab for treatment.
"I was just supposed to pick him up, head back to Georgia for the training and take him to rehab there," Glasgow said in an exclusive interview with The Root. "That's the only reason I was even in Dothan."
Instead, authorities say, Townes detoured that attempt, which came two days after Glasgow's own son had been shot and one day after he had marched against gun violence.

"I hate guns and I hate violence," Glasgow told The Root. "I want to be very clear here. I have never in all of my 25 years of being in human rights, of safeguarding and being a refuge for my community, harmed a black woman, and I never will. I am innocent of these charges and I want the world to know that. Black women have held me up throughout my own struggles, and they are the backbones of TOPS."
"My life, since coming out of prison after my own battles with drugs, has been about how I reduce the harm inflicted on my community," Glasgow continued. "I am a man of peace."
Glasgow has long been a target of the far right because of his loud, unapologetic commitment to demanding institutional dignity and respect for black people in the Deep South—meaning he isn't asking for white folks to like them or hold hands. He is fighting for an end to the war on drugs. He is fighting homelessness. He is fighting against food insecurity and economic exploitation, and he is fighting for an end to mass incarceration.
If you ask Glasgow's supporters, there is no hesitation, not one pause, as they reject the veracity of the charges against him. This is a man who is known and loved.
"When I met Pastor Glasgow in the spring of 2014, he told me that currently and formerly incarcerated people would change what people across the country thought possible toward electoral politics, and they did," Ash-Lee Woodard Henderson told The Root.
Woodard Henderson is the first black woman to be named executive director of the Highlander Research and Education Center, the grassroots organization that is known for training freedom fighters, such as Martin Luther King Jr., Rosa Parks and the Rev. Ralph Abernathy, among others.
"Glasgow's work is important because of who he is—someone of Dothan, firmly rooted in Alabama. Someone who knows intimately the impact of the radicalized impact of the criminal injustice system on families and communities," Woodard Henderson continued. "His spiritual support of communities directly impacted by systems of oppression, his commitment to working with them to build their own political power, rooted in relationships and transformative justice, isn't just awesome because it's creating necessary movement infrastructure, but because it is literally saving lives on the daily."
---
Even as supporters mount a vigorous campaign for Glasgow's legal defense fund, Breunia Jennings' violent death has not been forgotten and is not being ignored. The reason is simple: All black lives matter.

They matter when the state is trying to extinguish them or cage them. They matter when black women are raped and killed by officers of the state, or by men within their own communities.
Black women often find themselves at the intersection of state and sexual violence. In fact, 60 percent of black women are unarmed when police officers kill them, according to the Fatal Interactions with Police research project. Black women are also disproportionately sexually assaulted by police officers. Black women are also more likely to be victims of deadly intimate partner and acquaintance violence.
"I know the Jennings family is in deep pain," Glasgow said quietly. "Every day at 11 in the morning, I sit in silent meditation for her family, and I am asking the world to do so as well. Because as terrible as it is being accused of something as horrible as this—and facing life in prison or the death penalty—I know that young woman's loved ones are equally in profound pain. I pray for them."

Woodard Henderson concurs. "Every single day at 11 a.m., we stand with Pastor Glasgow in silent meditation and prayer to remember Breunia Jennings," she told The Root.
It is possible—indeed, necessary—to mourn the death of Breunia Jennings, while also being clear that the Rev. Kenneth Glasgow is being targeted by a state that is against the political and economic empowerment of black people.
"Because of the impact of the work that Glasgow leads, it's not shocking that the system is throwing everything they can at him to discredit and distract him and others from the lifesaving and power building they've committed their lives to," Woodard Henderson told The Root. "It is with heavy hearts that we mourn the loss of a community member, and simultaneously fight for Glasgow not to be wrongfully convicted of a crime that he did not commit."

"That this charge is even still on the table with no evidence is more than enough evidence to prove that he is a politicized target," she continued.

Even though the outcome of his case is uncertain, Glasgow remains hopeful and focused on justice. Still, his voice breaks as he recalls how much the judicial system has already taken from him.
"The system has stolen me away from my family before, stolen precious time with my children," Glasgow said. "I would never volunteer myself to be thrown back into slavery behind bars. I would never jeopardize my family's well-being so recklessly. And I would never, never harm my community."
---
As The Root moved to file this story, Glasgow remained hard at work on his campaign to Free the Vote; to ensure that 3,000 meals are served at Moma Tina's Mission House; and to make sure the communities that society at large tries to throw away are served and treated with the dignity all deserve.
For more information, please visit the Glasgow Defense Committee website.