If you happen to be on any form of social media (or have at least one friend from Queens) you are more than likely aware that Nicki decided to stun the world with a picture of a presumed engagement ring provided by our favorite Philly loudmouth. Many blessings to them and their impending union.
What you probably don't know is that they've already met with a wedding planner…and some of it was caught on a film that surfaced online but was quickly deleted…and, lucky for everyone, I was able to view it and transcribe much of what happened.
Setting: The offices of Mindy Weiss in Beverly Hills. Nicki is wearing distressed jeans, while Meeksports an Avirex jacket and construction Timbs
Mindy: Congrats again on the engagement! Glad you've decided to take your business my way. So, tell me what you're envision.
G/O Media may get a commission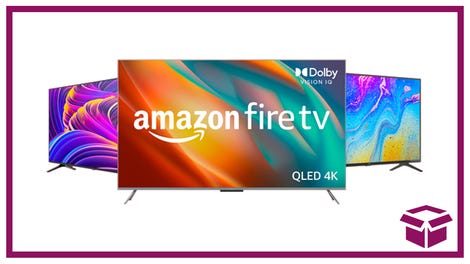 Ooh. stunning.
New Amazon Fire TVs
Nicki: I just want my bae Safa-I mean Meek-I mean Rahmeek- and I to have as obnoxious a wedding as possible. Think "too much is not enough."
Meek: YOU BEEN TO A NIGERIAN WEDDING? THAT'S D-LEAGUE TO US. YOU SEE THIS AUDEMAR ON MY WRIST?
Nicki: BUSTDOWN!
Meek: BLACK ON BLACK ON BLACK. RACKS ON RACKS ON RACKS. CHECK THE RING!
*Nicki flashes ring* *Mindy engages in reflexive gagging (discreetly, as she is a consummate professional)*
Nicki: My homegirl Tameeka saw the ring and told me that it's the exact cut that she wanted her high school boyfriend to get her. And I don't want to brag….but Jacob the Jeweler may have originally designed this for a Fabulous video in 2002. My shit is vintage.
*Mindy offers a Zach Morris stare*
Mindy: Okay, I think I get the picture here. Go big or go home. So what are we thinking? 100 white doves?
Meek: DOVES ARE BASIC. HENS, MY NIGGA. HENS. THIS IS MY SECOND MARRIAGE, WE GON' HAVE THE HOOD ON FIRE.
Mindy: You were married before? I didn't know. To who?
Meek: THE GAME!
Nicki: YASSSSSSSSSSS! Listen, my shit has to be Instagram legit. No filter needed. Hens everywhere. Birds too. Every table got their own chandelier. My cake gotta look like gold bricks. My reception? A white party. NO OFF WHITE ALLOWED. You writing this down?
Meek: GIVE HER WHAT SHE WANTS!
*Meek clears his throat*
Seriously, I need to lock this down before she realizes I'm a rebound with questionable personal hygiene. Just make sure the Audemar gift bags happen.
**Mindy takes a deep sigh and remembers that she just filed her taxes**
Mindy: …so how do you feel about paying 75% up front in cash?
Unfortunately, this is all I was able to get before the clip cut off. But, I saw enough to make me rebelieve in Black love. Hopefully, the union of Onika and Rahmeek has the same effect on you.