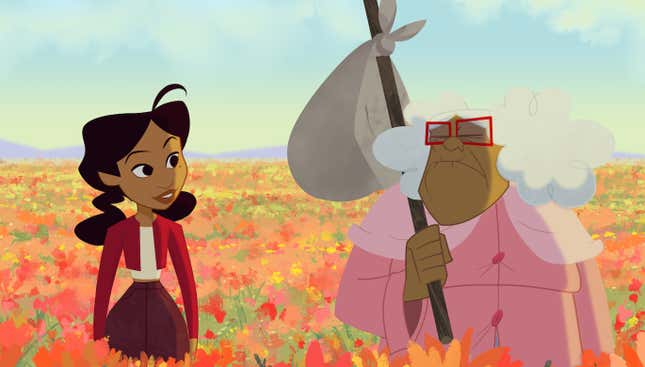 Just in time for Black History Month, the groundbreaking animated series, The Proud Family: Louder and Prouder, is returning for Season 2 on Feb. 1 on Disney+. In case you haven't been watching since the original series aired on Disney Channel back in the early 2000s, the show follows Penny Proud, (voiced by Kyla Pratt), and her loving yet crazy friends and family. What makes the series and its characters so enduring is that it tackles topical issues in a smart, entertaining way, making it easy for kids to understand why these conversations are so important. This is showcased in an exclusive clip from the upcoming episode "Juneteenth." Penny and her friends explore the history of Juneteenth when they discover that Smithville's founder was a slave owner. The episode features guest appearances from the always-busy Keke Palmer and Tony-winner Leslie Odom Jr.

The Proud Family: Louder and Prouder is the continuation of a story that started 20 years ago. Despite the original ending in 2005, the series has remained popular. In fact, when Disney+ was first announced, it was one of the properties fans were most excited to see return. Creator/executive producer Bruce W. Smith and executive producer Ralph Farquhar spoke to The Root about what makes The Proud Family so special.
"I'm gonna credit that to a level of realness that I think we were tempted to put on the screen and the level of success that we've had with that," Smith told The Root. "Those characters being believable, that world being believable, the humor and the fun of a lot of what you see on screen was paramount in a lot of people's lives growing up."
With both iterations of the show streaming on Disney+, it's constantly being discovered by new generations and audiences. There's an evergreen quality that allows it to never go out of style.
"You want to be able to create content that resonates with people and it becomes timeless," Smith said. "That's the thing with animation, right? When you think about Walt Disney Animation, a lot of the films get re-released because they just gain a new audience each time around. And thankfully, that seems to be happening with us."
As an animated Disney series, The Proud Family fits in with all the other family favorites in the company. However, it also never loses sight of the fact that it is absolutely a Black show about a Black family. Right from the start, authenticity was essential to the show's success.
"It was very important to us from the very beginning to illustrate our authentic experiences," Farquhar said. "We always challenged everyone, give us your real experience. We don't want you to make up anything. Just tell us your real experience and we'll turn that into an episode and that's always been our model."
If you're looking for a show that you can enjoy with the kids, while also jumpstarting vital conversations, there's no better choice than The Proud Family. It's educational and fun, which is exactly what you want for your children.
Picking up with Suga Mama's Season 1 cliffhanger, The Proud Family: Louder and Prouder Season 2 premieres Feb. 1 on Disney+.