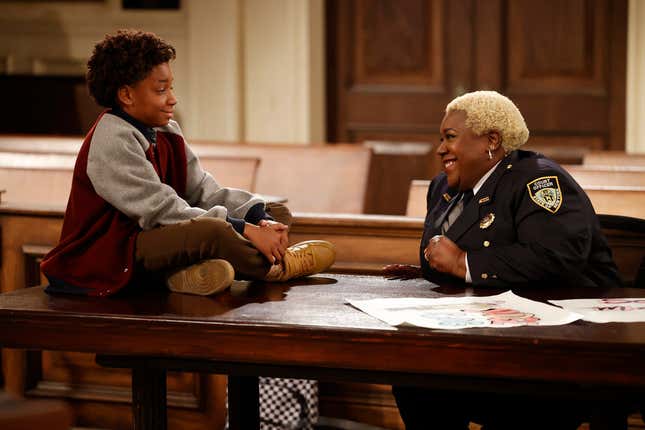 One of the biggest TV hits of 2023 has been NBC's revival of Night Court. This new version of the '80s series stars Melissa Rauch (The Big Bang Theory) as Abby Stone, daughter of OG judge Harry Stone. Original series star John Larroquette has returned as an older, wiser and less creepy Dan Fielding. Though the new cast is still finding its footing, one of the show's breakout characters is Lacretta's bailiff, Donna "Gurgs" Gurganous. In an exclusive clip from Tuesday's episode "Justice Buddies," Gurgs gets to know her nephew, Xavier, a young activist.
When his role model is arrested and brought into night court, Xavier and his friends are there to make sure everything is on the up and up. He also lets his aunt know they're ready to protest the proceedings if justice isn't fair. If you've been watching the show, you know Gurgs does not like trouble in her courtroom, so she has to reconcile her job with showing her nephew that her work isn't all bad.
In recent years, the "Black law enforcement officer who has to figure out their place in a corrupt system" has become a popular storyline on procedurals. It usually ends with some version of "I'll fix it from the inside," however, it's rarely played for comedy, so this will be a slightly different tone than we've seen on other shows.
Night Court is a very old school type of sitcom, meaning it goes for over the top humor, with a lot of physical comedy. This is only episode six of the new series, so it hasn't had an opportunity to do "a very special episode" yet. It will be interesting to see how it handles such a delicate subject. I'm guessing it will involve Dan doing a lot of "angry old man" jokes about the new generation and Abby possibly going too far to prove that she's not a prejudiced judge.
I'm not going to claim that Night Court belongs in the prestige TV conversation. But, if you're looking for a show that will offer you a fun reprise from the Hellmouth we currently live in, then this will certainly do the trick.
G/O Media may get a commission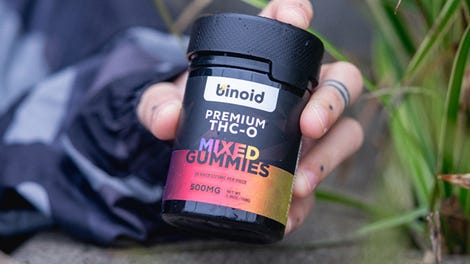 25% Off + Free Shipping
Binoid THC-O Gummies
Night Court airs Tuesdays at 8 p.m. on NBC.