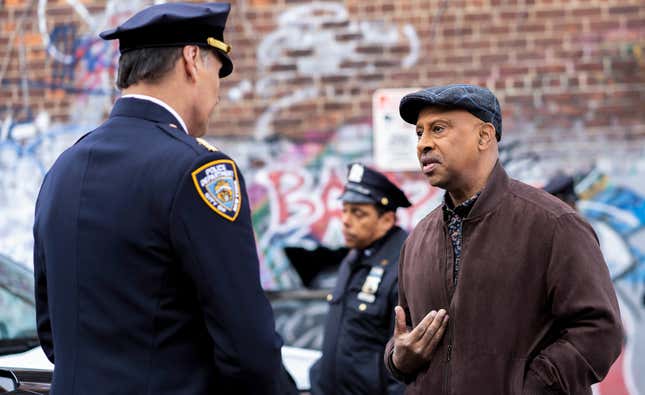 CBS' hit drama East New York returned from its winter hiatus with the resolution of its fall cliffhanger, and it appears the precinct isn't done dealing with the fallout. In case you haven't been keeping up with the police procedural, rookie officer Bentley was shot, sending shockwaves through the community. His partner Sandeford, played by the incomparable Ruben Santiago-Hudson, was emotionally shaken by his young protegee's attack and went rogue to get the criminal responsible.

Jonathan Majors Is The First Black Aviator In Devotion–Our TV Pick This Week
In an exclusive clip from this Sunday's episode titled, "By the Book," Sandeford must now face the consequences of his actions. To find out what he can do to get fully reinstated to the police force, Sandeford goes to see Chief Suarez, played by TV vet Jimmy Smits, but unfortunately the chief doesn't have good news for him.
This scene is made even stronger by the chemistry between the good friends. "Me and Jimmy have been close for a long time. We consider ourselves family," the Tony-winner told The Root.
In an interview with The Root, Santiago-Hudson explained that the previous episode, "10-13," provided him with some of the best work of his career.
"Through the generosity of our producers I've been challenged to go as far as I possibly can go as a person in the depth of my feelings and revealing the love that I have for him," he said. "They're willing to let a person of color be whole. To have frailties as well as power, to have humor as well as pathos. I am being challenged tremendously in the next episode. It is the highlight episode of my career on television. I've never had the chance to share that much of myself on television because Hollywood has been content to just utilize a fragment of who I am. In this episode, I have to use all of who I am."
Based on that final moment when he tells Suarez that being a cop is all he knows how to do, it seems like this whole storyline is offering the actor a chance to showcase everything he's been holding back all these years.
East New York airs Sundays at 8:30 p.m. on CBS and is available to stream on Paramount+.