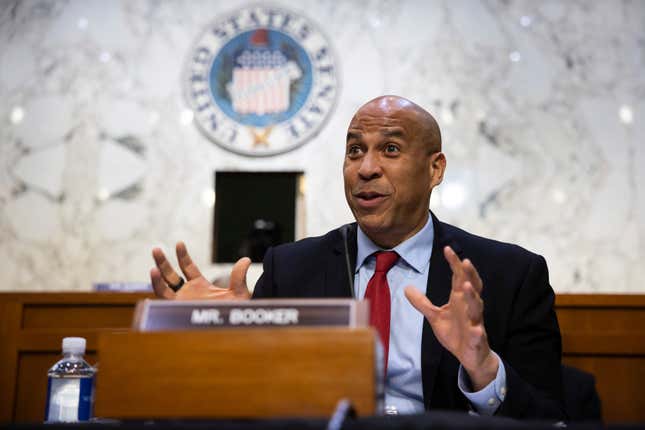 Anyone who has been paying close attention to the Supreme Court knows that they've been slowly eroding the civil rights protections many of us hold dear. And unfortunately, that includes your right to sue for discrimination under the Civil Rights Act. But a new bill could change that.
Afraid Of Losing Political Power, White People Weaponize "Identity Politics"
On Thursday, Representatives Jamie Raskin (D-MD) and Glen Ivey (D-MD) and Senators Cory Booker (D-NJ), Ron Wyden (D-OR), and Richard Blumenthal (D-CT) introduced the Economic Inclusion Civil Rights Act of 2023. The bill, which was exclusively shared with The Root, would ban discrimination in any economic activity and make it easier to prove racial discrimination in court.
"Over 155 years ago, Congress enacted Section 1981 [of the Civil Rights Act] to guarantee equal treatment for Black Americans and other communities of color in our economy," said Senator Booker. "However, the Supreme Court's decades-long pattern of systemically striking down its critical protections has left the law's promise unfulfilled today."
This time to act is now, says Representative Raskin. "It's time to get our democracy back on the growth track and provide firm protections against discriminatory practices in economic life, ensuring that people of color live free from economic discrimination," he says.
Why Do We Need a Civil Rights Act of 2023?
You may be wondering why we need a Civil Rights Act of 2023. Don't we already have one? Well, the bill's drafters argue that current federal anti-discrimination laws have far too many loopholes. For example, while the Civil Rights Act of 1964 banned discrimination in "public accommodations," that doesn't include all businesses open to the public.

"The definition of "public accommodation" excludes most banks, shops, grocery stores, and hospitals," wrote the bill's sponsors in a letter to their colleagues. "Moreover, while the Civil Rights Act of 1964 protects people of color from being excluded from public accommodations, courts have held that federal law does not protect against other forms of discrimination in these places, like racial profiling or the provision of inferior forms of service."
Enter the Supreme Court. In 1982, the court ruled that the Civil Rights Act of 1866 only protects against intentional economic discrimination. And in 2020, the Supreme Court further narrowed the scope of the law, requiring people to prove that "but-for" racial prejudice the wrongdoing they're suing over would have never occurred, making it almost impossible to win these cases.
What Does The Bill Actually Do?
So now that we've gotten our history lesson out of the way. What does this bill actually do to help people of color? Well, the law would get rid of that pesky "but for" part of the Supreme Court's 2020 decision. Instead, plaintiffs bringing racial discrimination suits would have to bring proof of conduct that a "reasonable person" would find racially hostile. The law would also expand the types of establishments you could bring a discrimination lawsuit against. And most importantly, victims of economic discrimination would no longer need to prove that there was racist intent to win under the Civil Rights Act. They'd just have to prove a racially "disparate impact."
"The Economic Inclusion Civil Rights Act would be the most important legislative advance for civil rights in over a quarter century," explains the Dean of UC Berkeley School of Law, Professor Erwin Chemerinsky. "It would restore the law to what it was before unfortunate Supreme Court decisions that very restrictively interpreted landmark civil rights statutes. The new Act would be a vital protection against discrimination and achieving economic justice." 
Will This Go Into Effect?
The legislation would undoubtedly be a hard sell in Congress this session. And all bets are off if it made it up to the Supreme Court. But clearly, those obstacles haven't slowed down the bill's sponsors' enthusiasm.
"Economic empowerment and opportunity for historically underserved communities is vital to generational wealth," explains Rep. Ivey. "Economic inclusion is a civil right."
Senator Booker echoes Rep. Ivey's sentiments. "The Economic Inclusion Civil Rights Act would be an important step toward restoring these protections and addressing the systemic racial discrimination in our nation's economy," he says. "We must ensure that all Americans are afforded the same opportunities to thrive."