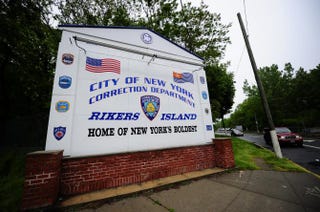 The head of the Correction Officers' Benevolent Association lashed out at a former Rikers Island guard who he said "jeopardized" other officers in writing his tell-all book, Corruption Officer, the New York Daily News reports.
"I'm outraged and livid that a member of service … would jeopardize the safety and security of his brother and sister officers," said Norman Seabrook, the association's president, according to the Daily News.
Former guard Gary Heyward wrote a detailed account of his time at the New York City prison, which included selling drugs and arranging the sale of sex.
"I had orders for coke, liquor, cellphones and [sex]," he said in the book. Heyward served time behind bars after he admitted to trying to sell cocaine to an inmate in 2006, the Daily News notes. Rikers is notorious for the corruption within.
The City of New York Correction Department said that it would undertake reforms to keep officers and inmates safe, according to the Daily News.
"The events alleged in this book predate the tenure of DOC Commissioner Joe Ponte, who has inaugurated an era of comprehensive and wide-reaching reform and is focused on creating a culture of safety on Rikers Island," Correction Department spokeswoman Eve Kessler said, according to the Daily News. "The vast majority of NYC Correction Officers are honest and hardworking, and we are grateful for their dedicated service."
Read more at the New York Daily News.