Warning: This story is not about America's criminal-justice system.
In this story, America's criminal-justice system is a parable. In this story, "criminal" is synonymous with "not white." In this story, "justice" is a mythical concept. In this story, Terra Morehead is synonymous with "injustice." In this story, "injustice" is the only thing that is real.
Toheeb Jimoh Talks The Power, Acting With Toni Collette, & Ted Lasso on That's So Random
This is not a story about criminal injustice, falsely incarcerated people, evil or even Terra Morehead. This is not even a story. This is a parable. This is an allegory. This is America.
This story began three weeks ago when The Root published the story of a Kansas City, Kan., police officer accused of forcing mostly poor black women to have sex with him. Or maybe it began six months ago when The Root published the story of Lamonte McIntyre, who spent 23 years in prison when he was falsely accused of a crime.
No, it really began more than three decades ago when a police officer named Roger Golubski forced a woman to perform oral sex on him. When the woman later refused his advances, he threatened to lock up her entire family. Years later, Golubski arrested the woman's son, Lamonte McIntyre, and charged him with a double murder, resulting in McIntyre's being imprisoned until his release in December 2017.
G/O Media may get a commission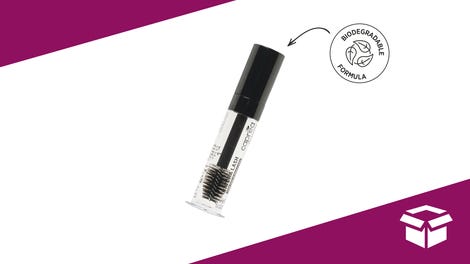 It's $8
20% Off Lash + Eyebrow Serum 2.0 - Caprea Beauty
After we reported on McIntyre's release after he had served a 23-year prison term, I received a tip telling me to look into another case of injustice, known in Kansas as the "Yellow House" case.
It is a convoluted tale of a black man and his wife who were arrested on charges they'd received stolen goods and sold them on eBay. There were conspiracy theories that linked the case to the FBI's "Fast and Furious" program, as well as to a prosecutor who manufactured evidence and made up the whole thing. It sounded as crazy as the so-called underground pizza sex ring.
Even though it seemed interesting, the story was too convoluted and too nuts to follow. I did, however, notice that Terra Morehead, the same prosecutor who had convicted Lamonte McIntyre, was involved in this case. This all happened in the early 2000s, and people accused Morehead of insane things, including going after bloggers who reported on the case and suppressing evidence. But, of course, it was too insane to be reality. Any reasonable person knows that if there was this much widely available evidence on a prosecutor, she would be in jail.
After all, this is America.
Then again, after the most recent story on Roger Golubski, the same tipster emailed again. This time, he sent a list of links and copies of government documents. The email read, in part:
Gobubski [sic] is an animal but you're concentrating on the wrong person. You should be looking at his prosecutor, Terra Morehead ... She's terrorized black and latin men for forever, but no one has connected the dots. Look at this and you will see she is the evilest white woman on earth. don't take my word for it...
So I looked.
Oh, what a story this is.
---
Officer Golubski's pattern of sexual abuse was the most salacious part of Lamonte McIntyre's case, but media reports only briefly mentioned the fact that McIntyre's prosecutor, then-Assistant District Attorney Terra Morehead, had been dating the judge on the case, J. Dexter Burdette. The pair dated for more than a year, and according to court documents filed in support of freeing McIntyre:
No records have surfaced showing that Judge Burdette ever disclosed the relationship or recused from a Morehead case during their 14 years of simultaneous service 1988-2002.
Even without the romantic relationship between McIntyre's prosecutor and the judge, there was the fact that no murder weapon was ever found. McIntyre also had no connections to the murder victims. In fact, there was not one piece of evidence, circumstantial or physical, linking McIntyre to the crime. So perhaps Morehead was just a great prosecutor, right?
Nope. Morehead cheated, McIntyre's defense attorneys charge.
Two separate people with knowledge of the crime told Morehead that McIntyre didn't commit the murders, according to McIntyre's defense filing. One witness, Niko Quinn, even told Morehead the name of the man who most people believed had committed the murders.
His name was also Lamont.
However, not only did Morehead not investigate, but she threatened to have Niko Quinn arrested and her children taken away if she testified to those facts, forcing Niko Quinn to testify in court against Lamonte McIntyre with an entirely made-up story:
The briefs filed by McIntyre's defense (pdf) read like a criminal indictment of Terra Morehead. After reading the evidence contained in the briefs, current Wyandotte County prosecutor Mark Dupree Sr. decided to drop all charges against McIntyre. Actual quotes in the briefs include:

"Prosecutor Morehead engaged in repeated instances of prosecutorial misconduct throughout trial."

"Prosecutor Morehead manufactured phantom informants to bolster perjured eyewitness testimony, referring to these informants in opening and closing and presenting testimony that they Implicated Lamonte McIntyre."

"Lacking evidence other than the confused and shifting accounts of the two eyewitnesses, prosecutor Morehead larded her opening statement with improper and unsupportable claims."
"Prosecutor Morehead elicited false testimony and presented an outdated, misleading, and ultimately irrelevant photograph to bolster the falsehood that McIntyre resembled a man (mistakenly) identified at the shooting."

"McIntyre's conviction must be reversed because Morehead's prosecutorial misconduct was so prejudicial that it denied him a fair trial."

Most people would agree that a corrupt law enforcement officer and a judge partial to the prosecution contributed to LaMonte McIntyre's decadeslong plight. But his defense alleges that it was Morehead who created a story "out of thin air" to send an innocent man to prison for 23 years, writing, citing an earlier precedent:
It is well settled that a prosecutor has an obligation to ensure a fair trial. "It is the county attorney, not the defendant, who holds a position of quasi-judicial authority and who is held to a higher standard and required to protect the fair trial rights of the defendant."...

"The [prosecuting attorney] is the representative not of an ordinary party to a controversy, but of a sovereignty whose obligation to govern impartially is as compelling as its obligation to govern at all."
Lamonte McIntyre was convicted in 1994. In 2002, after 14 years in the Wyandotte County District Attorney's Office, Morehead would eventually move on to the U.S. Justice Department. Although her title would change, she would keep the same pattern of using little white lies to intimidate witnesses and suppress evidence, court documents show.
This was just the beginning.
---
Less than two months after Lamonte McIntyre's conviction was overturned, a federal judge ordered the release of Gregory Orozco, who had been incarcerated on drug charges. According to court papers (pdf), Orozco was caught, along with two white suspects, with a number of prescription pills, a large amount of methamphetamines and guns.
Orozco was charged with possession with intent to distribute methamphetamine, using or carrying the firearm in furtherance of methamphetamine distribution, and being a felon in possession of a firearm. The jury acquitted him of the firearm charges but convicted him of the drug charges.
The white suspects, a man and a woman, were not charged.
Orozco tried to tell Morehead that the drugs were not his, but she didn't believe him, even though they were in a pink bag that the white woman said "could have belonged to her," according to the judge's order exonerating Orozco.
Just before the trial began, Morehead walked into court with the evidence from the pink bag—the drugs, the pills, the gun and a SIM card. When the judge and Orozco's attorney asked what was on the card, Morehead informed them that it was a bunch of "commonplace photos."
At the trial, Morehead called Alejandro Ruiz as a witness. Ruiz testified that Orozco had given him a large amount of meth in exchange for a Chevrolet Camaro. Orozco not only denied it but was prepared to call Alejandro's brother, Jose, as a witness to deny the claim and say that he, not Alejandro, was actually the one who had sold Orozco the car. Jose was going to testify on Orozco's behalf that his brother had never even met Orozco.
That's when Morehead asked the judge for a recess.
When they returned to court, suddenly Jose announced that he was "not feeling too well" and could not testify. Orozco would later find out that Morehead had threatened Jose during the break when she discovered that he had a federal drug charge pending, according to the court document.
And remember that pink bag full of drugs and guns? Remember the flash drive? It turns out that the flash drive was filled with more than 200 pictures showing the white girl and the white guy with the bag, the guns and all of the damaging evidence. Morehead knew it and withheld it until the day of the trial, according to the court document.
The appeals court found that Morehead's statements to Jose "were both unnecessarily strong and unjustified," and that the man whose testimony might have cleared Orozco "was actually intimidated, and as a result, did not testify in this case."
In her order, Chief Justice Julie A. Robinson wrote that "Morehead did not inform the court that this evidence [the SIM card and photos] was potentially exculpatory evidence." Judge Robinson also explained that "Morehead's conduct in violating the Sixth Amendment cannot be adequately remedied by a new trial."
Gregory Orozco became the second man freed because of Terra Morehead's intentional misconduct. Despite actual evidence that Morehead suppressed evidence and intimidated witnesses on multiple occasions, she is still employed as an assistant U.S. attorney, prosecuting some of the biggest federal cases in Kansas, which raises the question:
How often does Morehead do this?
---
The Root combed through more than 100 cases, complaints and appeals by people prosecuted by Morehead. Many of them claimed that Morehead suppressed evidence or made up evidence out of whole cloth, but they lost their cases, not because their facts were unsubstantiated, but because of sometimes minute technicalities.
To be fair, some of these allegations against Morehead may not be true, and many of the people she prosecuted are likely guilty. But we know that some are. There are others where she simply appears to be overzealous when it comes to black and Hispanic defendants. Sometimes she was just plain mean.
There's the case of Mardell Trotter, who was sentenced to 26 years in jail for selling crack cocaine. When Trotter's attorney pleaded with the judge that the sentence would only be five or six years if the case were in a state court, Morehead said that "this was not the venue" to discuss the fact that mandatory minimums treat crack offenses 10 times worse than those involving powder cocaine.
After winning an acquittal for his clients on a drug case, several witnesses told the Associated Press that Morehead asked defense attorney Carl Cornwell, "How does it feel letting a guilty guy go?"
In another case, Trent Percival pleaded guilty and cooperated with prosecutors in a drug case that led to 42 people being charged with conspiring to distribute marijuana and cocaine. Despite helping law enforcement officers and prosecutors with the case, Morehead recommended a 10-year prison sentence for Percival, the same punishment as other defendants. A U.S. district judge eventually vacated the sentence, and Morehead agreed to send Percival to prison for a term of five years ...
But only after he agreed to forgo charges of prosecutorial misconduct.
Which brings us back full circle to the nutty people involved in the "Yellow House" case, Guy and Carrie Neighbors. Both were convicted on charges of wire fraud and receiving stolen property after law enforcement agents discovered they were buying brand-new items from people in town and reselling them on eBay. It turns out that many of the items that they had purchased had been stolen from local retailers.
Guy Neighbors, who is black, was indicted but escaped incarceration because of a long delay in his case. His wife, Carrie, was convicted and sentenced to eight years in prison. They were convicted based on testimony from undercover officers who said they bought items from local stores, told the Neighbors they were stolen goods, and the Neighbors bought them and sold them on eBay.
The Neighbors say it's all bullshit. Prosecutors charge that they knew the items were stolen, but the Neighbors deny that.
They say they were charged with being felons in possession of a gun even though they had no criminal records. The Neighbors say that the cops' evidence was manufactured. They claim that no witnesses testified to exchanging drugs and that the other witnesses were coerced. The only impartial witness at their trial was an undercover cop, who testified that he sold the Neighbors an item that he told them had been "nabbed off the back of a truck."
Even with all of that, the Neighbors claimed that their sentence was made overly harsh because the Neighbors had talked to news outlets and writers, calling out Terra Morehead on blogs that claimed Morehead was a vindictive liar. They claimed that Morehead trumped up charges and tried to force them to plead guilty.
It all sounds nutty, doesn't it?
Until you realize that the Neighbors have been accusing Terra Morehead of being crooked for years, and Morehead has been fighting back.
Before the Neighbors even went to trial, Morehead asked federal judges to revoke the Neighbors' bond at least nine times because they publicly asserted their innocence and made disparaging remarks about her. On her ninth try, the Neighbors' bond was revoked and they were jailed specifically because they sent out an email blast to news outlets about Morehead.
Even though judges typically only consider flight risk and the safety of the public when determining to revoke a bond, Morehead found a way around that. First, she got the judge to invoke a gag order on the Neighbors, making their public remarks about her a violation of their bond. Then Morehead convinced a judge that an email blast sent by the Neighbors with comments about her posed a "danger to the community."
In the order for detention, the judge wrote:
To be clear, the court does not believe defendant poses a flight risk in terms of physically fleeing the jurisdiction or failing to show up for scheduled court appearances ...

The threat of continued criminal defamation of government counsel and witnesses if defendant were released poses a serious risk of danger to the community.
Carrie Neighbors was eventually convicted of wire fraud and sentenced to an unusually long sentence of eight years. When she appealed (pdf), citing the fact that eight years was a long sentence for selling stuff on eBay, a federal court upheld the conviction, even admitting that Carrie Neighbors' punishment had been increased because of blog posts written by the Neighbors about Morehead.
---
There is no question that Terra Morehead sent people to jail without revealing that she had been in a romantic relationship with the judge who presided over some of her cases. The fact that she intimidated witnesses is a matter of public record. Anyone can download the judges' decisions that show she withheld exculpatory evidence. You can read the opinion of defense attorneys who say she "engaged in "prosecutorial misconduct" and manufactured "phantom informants."
"The truth is, we don't know how common this is," said Elie Mystal, executive editor of the legal news site Above the Law. "Because there is no objective third party to determine cases of prosecutorial misconduct, we don't know how many bad apples there truly are."
Mystal, a Harvard Law School graduate and noted legal analyst, says that these cases not only rise to the level of misconduct but are often "straight-up crimes" for which black people disproportionately pay the price.
"If white people bore the brunt of prosecutorial misconduct, we'd fix this problem in a minute," Mystal added. "But because the victims of injustice are disproportionately black and poor, we just don't care."
After a federal judge cited Morehead's conduct as the reason for Greg Orozco's release, the Associated Press reported: "U.S. Attorney's Office spokesman Jim Cross said Thursday the office was not able to comment on Robinson's latest order or the allegations against Morehead."
Neither Jim Cross nor representatives of the Department of Justice's Kansas District have returned The Root's numerous phone calls and messages about Morehead.
Then again, Morehead is simply a character in an allegory about America. In this story, the criminal-justice system is just a symbol. In this story, justice is not real and truth can be bent. It does not matter that Morehead is a white woman, because only someone evil would do these things.
Here is a last story about Terra Morehead.
The documents linked to this article were only a select few of the hundreds of cases we poured over. Before The Root published this story, editors, copy editors and even lawyers had to read over this story and confirm the facts. Like the judges, fellow prosecutors, defense attorneys and wrongly imprisoned victims of Terra Morehead, they all agreed that it was important for the public to know this information.
Yet, even after they had read the tale of how one woman has skirted the law and sent men to prison for decades without cause, almost every one of them had the same exact question:
Did I have to refer to her as an evil white woman?
And that, dear friend, is America.