The family of Terrill Thomas, an inmate who died of dehydration while in custody at the Milwaukee County Jail in 2016, has filed a federal civil rights lawsuit naming the county, Sheriff David A. Clarke Jr. and more than 20 others as defendants in the case.

As the Milwaukee Journal Sentinel notes, the lawsuit comes a little over three months after an inquest jury recommended charges against the seven jail employees involved in Thomas' death. The jury found probable cause that Sheriff's Maj. Nancy Evans; jail Lt. Kashka Meadors; and corrections officers James Ramsey-Guy, Thomas Laine, John Weber, Dominique Smith and JorDon Johnson all committed crimes in Thomas' grueling death.
Thomas, 38, who grappled with bipolar disorder, was denied both water and a mattress for seven straight days at the jail, which is run by Clarke.
The seven jail officials involved in the death are also listed among the defendants in the lawsuit, which in all names eight jail supervisors, 14 correctional officers, Armor Correction Health Services, and a doctor and three nurses who worked for Armor at the jail, the Sentinel notes.
G/O Media may get a commission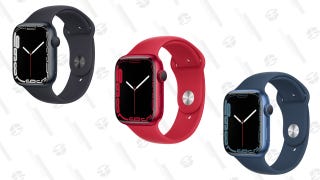 Up To $45 Off
Apple Watch Series 7
"The Estate of Terrill Thomas brings this action to hold Defendants accountable for subjecting Mr. Thomas to unconscionable pain and suffering and causing his death," in violation of the 14th Amendment, the Americans With Disabilities Act and Wisconsin law, the suit alleges.
Thomas was arrested on April 15, 2016, in connection with a shooting, and while at the police station holding cell, he reportedly showed signs of severe mental illness. Initial screeners recommended that he be placed in the special needs unit because of his physical and mental conditions.
Two days later, on April 17, guards reported that Thomas was acting agitated and had stuffed pieces of his shirt and mattress into the toilet to flood the cell. Instead of requesting mental-health care, a lieutenant placed Thomas in an isolation cell, removing all the bedding and turning off the water.
The conditions, as the Sentinel notes, directly violated jail policy. Thomas was given only Nutraloaf for food, which the lawsuit emphasizes is too dry to eat without water.
Thomas' health rapidly started to fail.
"By April 23 he was too weak to yell or bang on his window. He was simply lying naked on his cell floor, barely able to move, severely dehydrated, literally dying of thirst," the suit alleges. "The change in Mr. Thomas' condition was obvious to every jail employee who looked into his cell, including multiple defendants. However, not a single one bothered to call for help until it was too late to save Mr. Thomas' life."
By Apirl 24, he was found dead, one week after being put in isolation. He had lost 34 pounds.
The defendants acted "objectively unreasonably and within deliberate indifference," the lawsuit claims, saying that their actions or inactions "were committed with the intent, malice and reckless disregard" of Thomas' rights.
The lawsuit is seeking unspecified compensatory and punitive damages, the Sentinel notes.
Read more at the Milwaukee Journal Sentinel.