"Consumer magazine publishers have desperately been trying to scratch a profit from any amount of advertising dollars they can get their hands on, especially since the economic recession last year.
"One group that was hit particularly hard in the marketing pullback was African-American magazines," Jason Fell wrote Thursday for Folio.
According to the Publishers Information Bureau, "Black Enterprise, Ebony, Essence and Jet were down a collective 18 percent in ad pages through the first quarter — about double the industry average. Ad pages slipped 8.2 percent at Black Enterprise while Johnson Publishing's Ebony and Jet saw dramatic declines of 30.6 percent and 33.1 percent respectively (Johnson points out, however, that Ebony and Jet both published one fewer issue during the quarter compared to last year).
"Time Inc.'s Essence, meanwhile, reported the smallest decline: -0.3 percent. Since then the magazine been taking advantage of the ad rebound, and says ad pages have been on the rise since its March issue. The magazine estimates that ad pages were up 31 percent for May, 14 percent for July and 21 percent so far for August. On the digital side, online ad revenues are up 32 percent during the first half of 2010 . . .
" 'Beauty, retail, food and pharmaceutical are resilient categories for Essence,' Michelle Ebanks, president of Essence Communications, tells FOLIO: 'In addition, Ford has emerged as a powerful partner, having supported our signature red carpet programs such as 'Black Women in Music' and 'Black Women in Hollywood.'
"'We're reaching new consumers online and with our live events such as the Essence Music Festival,' Ebanks says. "We have been successful at converting these audiences to subscribers.' "
G/O Media may get a commission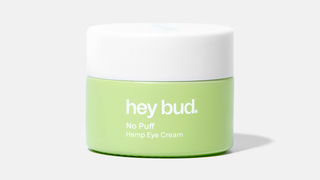 15% off
Hey Bud - No Puff Hemp Eye Cream
Lakers' Victory Game Grabs Top NBA Ratings Since '98
"The highly competitive Game 7 of the NBA Finals dunked an 18.2 overnight rating Thursday night, the best performance for an NBA game since 1998 when Michael Jordan was leading the Chicago Bulls over the Utah Jazz," Mike Reynolds reported Friday for Multichannel News.
"The June 17 telecast of Game 7, in which the Los Angeles Lakers edged the Boston Celtics 83-79 to retain their crown and Kobe Bryant was named series MVP, was the highest-rated NBA Finals game ever on ABC, eclipsing the 15.5 overnight mark for Game 5 of the 2004 Finals between the Lakers and Detroit Pistons. (ABC overnight records date back to 2003.)"
The NBA playoffs and then the finals consistently drew high numbers, especially among African Americans. For the week of June 7-13, the Nielsen Co. reported that overall, the games held the top three ratings positions, as they also did among African American and Latino viewers.
But during the week of April 26-May 2, during the playoffs, 11 of the 16 top cable shows watched by African Americans were NBA-related, Nielsen reported. Among Hispanics, only four ranked in the top 16 on English-language cable that week. Turner Network Television carried the playoffs.
Bryan Burwell, St. Louis Post-Dispatch: 'King' James hasn't begun to match Kobe
Terence Moore,  AOL Fanhouse: Kobe's the Best Right Now, but Not Ever
Shaun Powell, NBA.com: Hardly pretty, but title No. 16 plenty sweet for Lakers
Drew Sharp, Detroit Free Press: Historical perspective needed in NBA's 'best ever' debate [June 20]
Michael Wilbon, Washington Post: On Kobe's legacy