Much like the women's magazine it's named after, the Essence Music Festival — from its musical acts to the panel topics at its empowerment series — directs everything toward the type of folk who are not only black and proud but also arguably proud to be black Americans.
For those who descended upon New Orleans — where the festival is held every year in the first weekend of July, usually coinciding with America's Independence Day — this year's Essence Music Festival was its own type of freedom party, where Frankie Beverly and Maze's "Before I Let Go" replaced the "Star-Spangled Banner" and "Lift Every Voice and Sing" as the national anthem of choice, and the fireworks were happening on the main stage of the Superdome during Kanye West's set on Saturday night.
I made my first journey to what most folks call "the Essence" with a group of friends in 2007. That year, we felt as if we had discovered a secret of sorts. Sure, there were more people than we could count walking the streets of the French Quarter with their friends and family, but we still felt like there could be even more. Every year, people will ask, why "the Essence"?
It's simple math: World-class music + world-class food + people from all over the world + a city known all over the world for partying = the best Fourth of July weekend.
This year, it all added up to yet another wonderful combination of sights, sounds and smells, though I couldn't help noticing a sense of malaise over the audience during the shows at the Superdome.
G/O Media may get a commission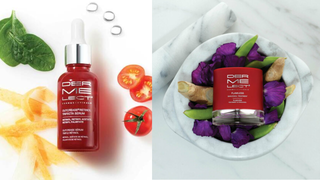 Save $19
Retinol Renewal Kit
Although it doesn't call itself an R&B festival, that's essentially what the Essence Music Festival is all about. As a die-hard fan of real R&B, I never thought I'd say this, but maybe there was too much emphasis on the genre in this year's lineup. Certainly any festival where Trey Songz can follow Kem — as was the case in Sunday's lineup — is a soulful one, but it might be too much focus on a particular type of soul.
On the festival's opening night, Boyz II Men kicked things off — a welcome bit of nostalgia for anyone who was old enough to remember their reign over R&B in the mid- to late 1990s. From there, the lineup went from Fantasia to Jennifer Hudson to Charlie Wilson to Usher, who hit the stage sometime close to midnight.
While all these acts performed on the main stage, the Superlounges — large rooms outlining the main arena that are converted into performance spaces — were mixing things up with one room dedicated to old-school acts like Mavis Staples and Irma Thomas and a "neo-soul" room where Dwele and Macy Gray also put on.
The overlapping interests are what make the Essence Music Festival border on sensory overload. It's an embarrassment of riches, with more music than anyone can handle. On Saturday evening, fans could catch Stephanie Mills in the Superlounge, but not if they wanted to see Chaka Khan do her thing on the main stage.
Old-school hip-hop fans who loved MC Lyte could see her on Sunday night in the Superlounge, but it meant they were missing New Edition's reunion, replete with every one of the original members, Bobby Brown included. Such decisions were so difficult, one was left with no choice but to flip a coin.
As West appeared — elevated over the middle of the arena floor — and walked down an aisle to the stage, giving dap to fans while performing "Dark Fantasy," the festival never felt more alive. Once he was onstage, the crowd roared as West ripped through a well-groomed catalog of his hits.
He had the crowd eating out of the palm of his hand as his deejay, DJ Mano, segued from Michael Jackson's "P.Y.T." into West's "Good Life," which samples the Jackson classic. When West ripped through "All of the Lights," ushers couldn't help standing back and let people spill over into the aisles as they danced and bounced along.
Ironically, West's set reached a fever pitch when he took a moment to pay homage to his own musical influences, asking Mano to run through a selection of classics that went from "Do I Do" by Stevie Wonder to Shai's "If I Ever Fall in Love."
Some might say the problem with the Essence Music Festival will always be its unwillingness to roll the dice when it comes to its performance lineup, but that's the exact reason many more come back year after year. The Essence is the festival where folks remind you they don't make music like they used to.
Essence knows this, so they curate a three-day festival heavy on nostalgia, light on in-the-moment popularity, and practically all the way out on the artists everyone says are the next big thing. But even Kanye West (who put on the best show of the entire festival) knew that the one place where the past and present collide into one beautiful party is at the Essence.
Jozen Cummings is a writer living in Harlem, N.Y. You can follow him on Twitter and read his blog, UntilIgetmarried.com.
Jozen Cummings is the author and creator of the popular relationship blog Until I Get Married, which is currently in development for a television series with Warner Bros. He also hosts a weekly podcast with WNYC about Empire called Empire Afterparty, is a contributor at VerySmartBrothas.com and works at Twitter as an editorial curator. Follow him on Twitter.