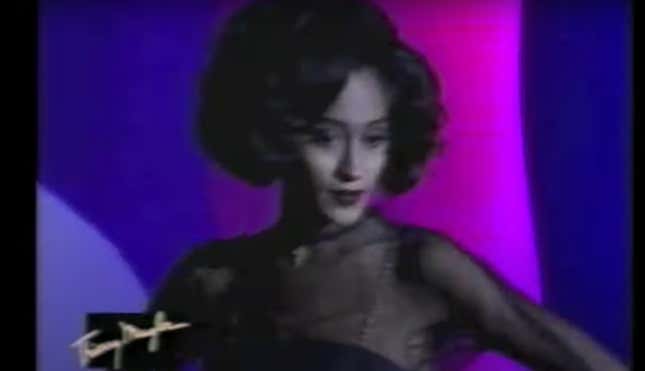 The widely beloved Tracee Ellis Ross has many identities: award-winning actress, director and producer, activist, beauty entrepreneur, and the middle daughter of stage and screen icon Diana Ross. Lesser known is that well before she was delighting us on Girlfriends or Black-ish (which returns this Wednesday), Ross was a model-turned-fashion editor—before which, she was just another fashion-loving teenager like, well, me.
This Juneteenth We Revisit The Anderson .Paak BLM Track "Lockdown"
Last weekend, Ross revisited that pre-fame era of her life (though it could be argued that the children of famous folks rarely get to escape the spotlight), posting a throwback video to Instagram of her first time on the catwalk—for Thierry Mugler in Paris in 1991—made possible by her megastar mama.
Explaining the epic moment, in which both mother and daughter sported skintight black outfits accented with vinyl and "pastie" details, Ross captioned the post:
30 years ago today, I walked in the @muglerofficial S/S 91 runway show in Paris!

My mother @dianaross got a call asking her to walk in Mugler's "Butterfly Show". She knew that I would sh*t my Guess jeans at the chance to model for real because I desperately wanted to be a model. Plus, I was only a couple of weeks shy of my 18th birthday. So, my mama agreed to walk in the show as long as they allowed her daughter to model in the show as well. Cut to my 18th birthday present: Me and my mama flying with Supermodels @lindaevangelista, @naomi, @cindycrawford and @cturlington on THE CONCORDE to Paris!

After a mere 3.5 hour flight from NY, we landed. I was having trouble with the shoes, so THE Willi Ninja, legendary mother of the House of Ninja and catwalk teacher extraordinaire, coached me! The experience and the show were EPIC!!! Thank you mama and thank you @manfredthierrymugler for making that dream come true and for the best birthday ever! And they icing on the cake is that Thierry invited me back to do the next show sans Mama!
This isn't the first time Ross has revisited the pivotal moment in her relationship with fashion. She first posted the clip (one of a montage of other runway appearances) in 2012 in celebration of her 40th birthday, but this is the first time the actress, who turns 48 on October 29, has shared the full story behind her first runway walk—and how fitting that her mom should be there to help guide those first steps, as well.
While Ross has repeatedly expressed the joy of playing in her mother's closet, these days, she's a style icon in her own right; landing on countless best-dressed lists—including ours. The people clearly agree, as on Friday, E! announced that Ross will receive the Fashion Icon Award at this year's "E! People's Choice Awards, " which will be broadcast live from Barker Hangar in Santa Monica on Sunday, November 15 starting at 9 pm ET/PT. Notably, Ross is also nominated for "The Drama Movie Star of 2020." for her starring (and singing) role in the 2020 People's Choice Awards-nominated film "The High Note."
Per a release provided to The Glow Up:
Ross will be honored for her trailblazing looks and one-of-a-kind personal style over the past two decades, her passion for self-expression and how she uses her voice and reach to inspire others to believe in themselves...

Ross is a champion of young talent and designers, most notably putting racial inclusivity front and center by featuring Black designers in all of her looks for stage and press when she hosted the 2018 American Music Awards. As a co-founding signatory of the Time's Up movement, she is actively involved in working towards the goal of creating safety and equality in the workplace. Her production company, Joy Mill Entertainment, is committed to amplifying multilayered content that intentionally inspires possibility and joy in order to create connection and understanding. Her haircare line, PATTERN, serves the natural hair community and is an active space for upholding and celebrating Black beauty. She is a fixture on Hollywood's best-dressed lists, and in 2017 she launched her first-ever fashion line, co-designed with JCPenney, which was celebrated for its inclusivity and accessibility.
"Tracee Ellis Ross' style is transcendent," said Jen Neal, General Manager, E! News, Live Events & Lifestyle Digital. "Her influence in the entertainment and fashion spaces are incomparable and we are delighted to honor her with the Fashion Icon Award."
How's that for a full-circle moment?