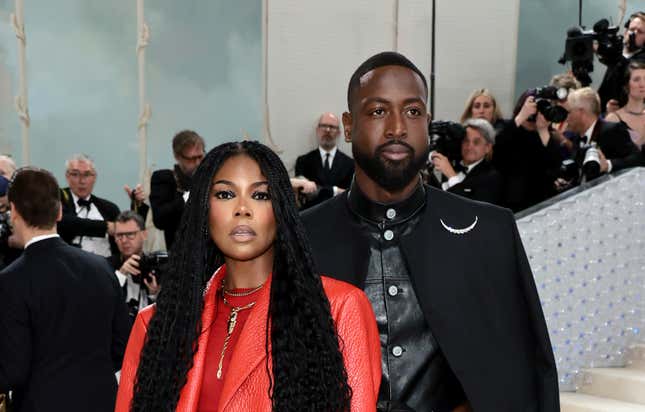 Dealing with financial issues is the hardest part of making any relationship work. Everyone has an opinion on how money should be handled, especially for celebrities. Gabrielle Union recently commented on how she and Dwyane Wade make decisions about money in their marriage, and boy did she hurt some fragile feelings when she revealed they "split everything 50/50."

Gabrielle Union & The Cast of The Perfect Find Define Black Love
"It's weird to say I'm head of household because in this household, we split everything 50/50," she said during an interview on Bloomberg's Idea Generation.
While appearing on Shannon Sharpe's Club Shay Shay podcast, Wade supported his wife's comments and laughed about all the jokes at his expense. Even Shannon admitted that he got some jokes off too.
"I haven't given no color to this, but it's think pieces going around about me as a man," he said. "So, the whole 50/50 concept, so I understand what 50/50 means. [It] means that everything in life, you got your half and I got my half. We'll put this shit together and try to make 100. That is not how our relationship works, all right? Everybody think 50/50, they think, 'Hey, if he gettin' a sandwich, you gotta put 50 [percent] on that!'"
As the conversation continued, D-Wade explained exactly what 50/50 means for them, going into detail about how they split their finances.
"50/50 in our household…let's say that I have 20 to 50 responsibilities," Wade said. "My wife has 20 to 50 responsibilities. When I say that, that means she has a mother, she has her sisters, she has her dad, she has a lot of things that she's responsible for. You know what she does? She pays one hundred percent of that. You know what I do? I pay one hundred percent of my life.
The three-time NBA champion celebrated how successful and independent his wife is and revealed that it's not nearly as complicated as people think it is. Honestly, it sounds like they have a normal, healthy relationship full of compromise.
"One time, we was in Miami, I said something about it being 'my house that I pay for.' She said, 'You will never say something like that to me again when it's something that we share.' My wife was like 'When we move to L.A., I got half on it,'" he said. "Our house, we purchased it together. Anything that goes on with our daughter, 50/50, we share it together. Now, it's some things I pick up or some things you pick up. If we take a yacht trip, we could do a 50/50 or I could do it myself. We probably share three things in our life that we 50/50 on. Everything else, I'm 1,000 percent and she's 1,000 percent. We decided that certain pieces of our life, we will share in it."
Anytime money comes up, people get so touchy about who pays for what. As Sharpe pointed out, if it works for them, why does anyone else care about their finances? She was asked a question in an interview and gave an honest answer. This wasn't something that Union brought up out of the blue. Seriously, everyone needs to calm down and stay out of other people's pockets.