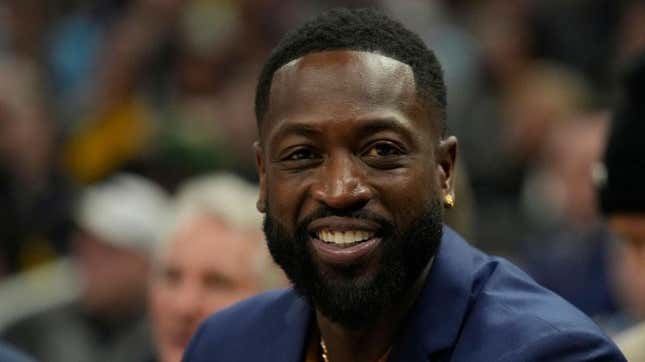 Although Dwyane Wade, the newest member of the Basketball Hall of Fame, is busy hosting the second season of the game show, The Cube, he's still keeping up with the young and talented players in the NBA.
You Okay Fam?: Should You See A Therapist Without Having A Problem?
With the playoffs in full swing, The Root couldn't pass up the opportunity to ask the three-time champ, 13-time All-Star, and Finals MVP about some of the players competing in the 2023 NBA Playoffs. And as someone who led the Miami Heat to their first NBA Championship in only his third year in the league, "Flash" is very familiar with raising your level of play when we get close to June.
"I know what the next level looks like," Wade told The Root. "I'm always looking to see which player is going to take that playoff step. Then which player is going to take that second-round step, third-round step, Finals step? So that's how I look at it."
Players Wade Is Watching
Wade said he came into the playoffs keeping an eye on Jayson Tatum.
"I love his game. I'm going to keep my eye on De'Aaron Fox. I've been a fan of his for so long and it's incredible to see him reach this level of superstardom. Obviously, Jimmy [Butler]. He always comes to play in the playoffs and you want to see if he can go to the next level and viola, Jimmy has gone to that next level."
Wade Is No Hater
Unlike some recently retired athletes, Wade has no problem appreciating the greatness of today's players, saying that he still enjoys watching the superiority of LeBron James and Stephen Curry. But with Wade still close to the game, he sees some of the young up-and-coming guards play a style of basketball similar to his own.
"Donovan Mitchell. We play so much alike," said Wade. "Of course Anthony Edwards. Our game is not the [exact] same, but you see certain things when it comes to the explosion. And we also both played for Tom Crean."
He continued, "Before the injuries, I looked at Victor Oladiop the same way. I see a little bit, not a lot, of Ja [Morant]. The way he attacks the basket. I'll even give you another guy you probably wouldn't think of. I see a little Lonnie Walker. He can shoot it better than me, but his athleticism is great."
The Best players In The Chi Are?
We wanted to know who this hooper from Chicago believed are and were the best players from the Chi.
"There's so many. Isiah Thomas. Derrick Rose. Quentin Richardson, that's my brother. Mark Acquire back in the day was incredible. Ronnie Fields. Anthony Davis, his talent is amazing. Antoine Walker was a bad boy. I could go on and on. There are just so many great hoopers out of the Chi," said Wade.
It's refreshing to witness a respected and revered athlete still enjoying and talking about the game and its players ...like he's a fan, which he is!