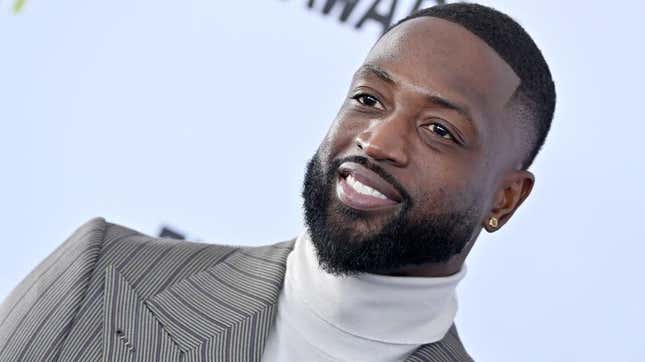 Despite being universally recognized as one of the most electrifying players in NBA history, and having a legendary career that included three championships, 13-All-Star appearances, and a Finals MVP, Dwyane Wade is still thankful for it all.
White Men Can't Jump Stars Teyana Taylor & Sinqua Walls Play "My Favorite Things"
Yeah, I know, it's cliché for such a celebrated figure to be humble and content with his current circumstances. But, someone like D-Wade, who was once just a kid from the inner city of Chicago, truly never lets the moments waste with his family and loved ones.
For instance, even though everyone and their mother knew that Wade was going to be inducted into the Basketball Hall of Fame, Wade acted like he had no shot in hell.
"Nothing is guaranteed. Nothing is given," said Wade. "Did I put together a career that will say, 'Yes, he will have an opportunity to get in the Hall of Fame?' No doubt about it. But, to get that official call is monumental."
He continued, "I'm a kid from the inner city of Chicago, who dreamed of being in this position. And because a lot of things went right, because of the hard work, because of the individuals put in my path: coaches, players, etc. I was able to get that call. So all the emotions came running back. I was vulnerable in that moment, thinking about the good, the bad, and the ones who aren't here to hear me call them and say, 'I made it.'"
But, now that Wade has achieved his primary goal of becoming an all-time great in the NBA, he's trying to be a hall of famer in his next endeavor, hosting game shows on television.
The once ruthless slasher to the hoop is now going to be the man in front of your TV every Sunday on TNT at 8 p.m. ET/9 p.m. CT hosting the second season of The Cube.
In this latest season, those same family and friends he's thankful to have in his life will also make an appearance on the exciting game show. Most notably, his wife, Gabrielle Union, and former teammates, Shaquille O'Neal and Iman Shumpert.
While he's not always sure if the contestants on the show will be as competitive as him, he's sure his friends and family will.
"Most contestants that come on the show, either watch the show, or they may get the rules in the back," said Wade. "So so I know that this show is gonna bring out the competitiveness in if you have a competitive bone in your body."

He continued, "I think having a relationship with my wife, Shaq, Iman Shumpert, and others helps in a sense, because I know them, I know what buttons to push. So I get lucky that way."
Celebrity contestants on the show will donate their winnings to a charity of their choice. "Normal" contestants on the other hand can do whatever they want with it. Whether it's buying a dream vehicle or helping others in their community.
"I love it because it looks so easy, " said Wade. "All I gotta do is beat seven games and I can walk away with $250,000. Then you watch them really get into it, and you get to see the emotion out of them. You can see joy, you can see excitement. This money can change their lives, it can allow them to do something that they never knew they could."
The same dreams Wade was able to realize in his life, he can see others do the same in real-time on the TNT game show, The Cube