There are a few albums in my life that have held pivotal roles: De La Soul's De La Soul Is Dead, A Tribe Called Quest's Midnight Marauders, N.W.A.'s EFIL4ZAGGIN and Outkast's Aquemini, to name a few. Another of those pivotal albums, Dr. Dre's The Chronic, was released on Dec. 15, 1992, exactly 25 years ago today.
I don't think I heard any of this album until somewhere in 1993. I was living in Germany at the time, and we got a lot of music and movies fairly late. But I had a friend who used to make me tapes because he had the stateside plug, and a few songs from that album were on one particular tape. On a trip to Italy for spring break, I remember stopping on base in Livorno and buying the tape from the PX. Life was never the same.
To me, EFIL4ZAGGIN was the album where Dr. Dre became "Dr. Dre the go-to West Coast producer extraordinaire." The music on that album was nothing short of beautifully produced from start to finish. It's also one of the most ignorant albums in all of existence. There are actual odes to statutory rape. And nonstatutory rape. And murder. It's super homophobic. It's almost as if they set out to make the most misogynistic album they could make and refused to stop until even they were impressed with their own nihilism.
A 12- or 13-year-old me was entertained and didn't really care, but a 38-year-old me can't even listen to it. No matter how sonically wonderful it is, the actual content is easily one of the most indefensible bodies of work ever created. I don't know how any of them played that album for their mothers, and I'm not even joking.
The Chronic, released a year and a half after EFIL4ZAGGIN, continued in that same tradition but with a brand-new cast of characters, including immediate standout Snoop Doggy Dogg. But RBX, Nate Dogg, Jewell, Kurupt, Dat Nigga Daz and the Lady of Rage all held their own. The beats were extra banging, and the sound, man, the sound was gold. Dr. Dre knew how to make a record and knew how to make that record sound timeless. Even now, listening to the actual CDs I purchased in the early '90s, the sound quality is as good as anything mixed and mastered nowadays. Musically, The Chronic is top-notch.
G/O Media may get a commission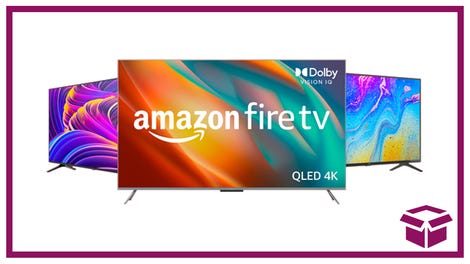 Ooh. stunning.
New Amazon Fire TVs
But like a lot of albums coming out of Southern Cali during that time, the gangsta rap era, it's really hard to listen to it today. Back then, I was fully engrossed with West Coast gangsta rap. From Ice Cube to (especially) DJ Quik to Compton's Most Wanted to Lil Half Dead to Dogg Pound. If it was coming out of Los Angeles, I was typically all in.
And almost all of the albums shared similar themes: house parties, weed, sex, violence, gangbanging, rape and rampant misogyny. It's actually impressive just how much rappers from Cali seemed to hate women. And yeah, I know, "We're not talking about women—we're talking about bitches" was the refrain from ignorant fools near and far, but it was really hard to distinguish from their lyrics who exactly was who.
Now, compared to EFIL4ZAGGIN, The Chronic is almost tame. Almost. While the violence and misogyny are still cranked up to a 10—the video for "Nuthin' but a 'G' Thang" is particularly problematic—the constant rape, murder and dismissal of women isn't AS present. Hell, there's even a pseudo-introspective song in the Donny Hathaway-sampling "Lil' Ghetto Boy."
It's interesting. As I've gotten older, I've maintained a certain nostalgic appreciation for classic albums like The Chronic, but I find them very difficult to listen to. Don't get it twisted—the album itself is every bit as good as it's always been. The songs are constructed well, the lyricism is great, the sequencing, the skits, everything. Plus, it gave us the "deez nuts" gag that is as useful now as it was then.
But as I recently discovered, my ears are just different. I cringed at so many lines while listening to the album recently. My personal politics have adjusted toward less willful recklessness and more responsible thought processes, and that means that listening to 62 minutes of sex, murder and mayhem isn't as easy. And I'd be lying if I said it was the gun or murder talk that bothered me; it's the misogyny. It's really hard to listen to albums that are built upon disrespect and violence toward women for no other reason than that they exist.
When I was 13 and discovered The Chronic, it changed the way I listened to music, especially hip-hop. I was already a hip-hop fan, but it made me get into the actual art of creation. I was interested in the liner notes and the samples and who was involved in each record. I stopped being a consumer and started being an active engager. I started to really pay attention to labels and even engineers because any album this good, I needed to know everybody involved so I could go find other stuff from them.
The trinity of EFIL4ZAGGIN, The Chronic and (Snoop's) Doggystyle is why Dr. Dre's name rings out so much among producers, and those albums turned me into a producer guy. It's why I love the wave of '70s instrumental jazz-fusion albums. The Chronic is a memorable mainstay part of my musical journey for that reason; sonically, we just hadn't heard anything like it.
But just like the album changed the way I listened to music, over time, the music changed the way I listened to albums, and some I had to put on the shelf and appreciate from afar. The Chronic will always be one of hip-hop's masterpieces and will always be one of my favorites. Always. But sometimes you take a look at them, remember what they meant and why, and move on because the art itself belongs in the era in which it was first consumed.
That's The Chronic. That's the bombudd.