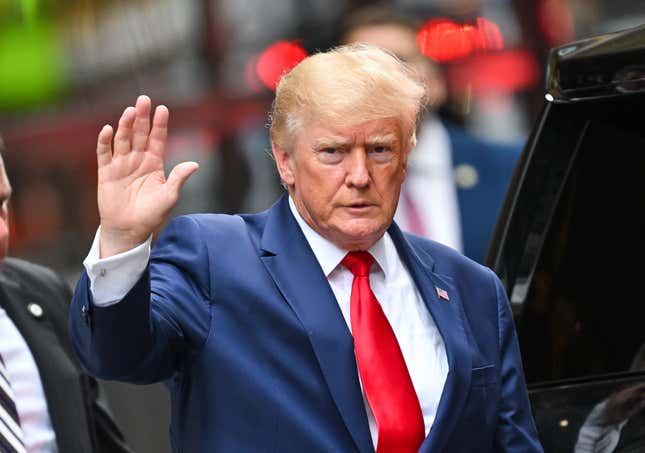 Former President Donald Trump made history last week (not in a good way) when he became the first United States President to be charged with a crime. As I write this, Trump is on his way to New York, where he'll spend a night at his hotel before turning himself over to authorities for his arraignment.
Trump, A Victim of "Reverse Racism"? You Gotta Be Kidding Me
But this obviously leaves some burning questions. For example, what comes next after Trump turns himself in, and why didn't police drag Trump to jail? Here are the five things you need to know:
Will Donald Trump Have To Sit In Jail?
One thing you shouldn't be waiting for is a sullen picture of Trump on his way to jail tomorrow. The Presidential candidate is expected to make bail and return to his home on Tuesday evening.
In fact, Trump is expected to deliver a speech from his Florida club, Mar-a-Lago on Tuesday evening. Trump has thrown the indicted politician's playbook of lying low out of the window. No doubt, we can expect the same kind of inflammatory language from Trump on Tuesday that he's been spouting over the last few weeks. Think Trump promising "death and destruction," with palm trees in the background.
How Will Donald Trump's Arraignment Go Down?
To back-up a bit, here's what we can basically expect over the next couple of days, with the obvious caveat that Trump isn't exactly the world's most predictable person.
On Monday, Trump is flying on his private plane from his home in Florida to stay at Trump Tower, the place where he descended a golden escalator to announce his initial run for President. He's expected to spend the night in his fifth avenue luxury building.
On Tuesday, he's expected to turn himself in at Manhattan District Attorney Alvin Bragg's office ahead of his hearing at the courthouse.
Trump is unlikely to be handcuffed, but as is standard procedure, he will be fingerprinted. It's unclear whether he'll have a mug shot taken.

Once they arrive at the courthouse in Lower Manhattan, Trump will appear before a judge, who will read him the indictment, which will include a full accounting of all the charges he's facing. (We currently don't know the exact contents of the indictment). Then he's expected to fly back to Florida for his Tuesday evening speech.
Trump's Supporters Are Calling His Treatment Unfair, Is It?
Obviously, Republicans aren't happy right now. Florida Republican Governor Ron De Santis called the news "un-American." House Speaker Republican Kevin McCarthy accused Bragg of "abusing their power to carry out a political attack." And ahead of the indictment, former Vice President Michael Pence said; "at a time when there's a crime wave in New York City, the fact that the Manhattan DA thinks that indicting president Trump is his top priority just tells you everything you need to know about the radical left in this country."
It's clear Republicans don't think Bragg is being fair and even-handed regarding Trump. And while there are certainly some questions about whether Trump would face the same charges if he weren't Trump, it's a little funny for the tough-on-crime people to call foul now.
Trump, who warned of "death and destruction" if he's indicted, gets to fly to New York City on his private jet, get arraigned, fly home, and give a speech to millions. Meanwhile, thousands of mostly Black and Latino New Yorkers are sitting in Rikers Island right now without ever being convicted of a crime. Some of these people will spend years, or even a decade, awaiting their trial as they languish in the jail's notoriously horrendous conditions.
The fact that Trump is being treated differently than the average person charged with a crime isn't surprising (one could argue no one deserves to be detained in inhumane conditions). But the complaints fall somewhat flat when you compare his situation to the plight of Black and brown New Yorkers, who've spent years in jail for petty accusations like stealing a backpack.
Should We Expect Another January 6th?
We never want to make promises when it comes to Trump supporters. But so far, it doesn't seem like we have another January 6th on our hands.
New York law enforcement officials are certainly gearing-up for protests over the next few days, especially after Trump's inflammatory rhetoric over the last few weeks. Last month, Trump went on a rant against District Attorney Bragg.
"What kind of person can charge another person, in this case, a former president of the United States, who got more votes than any sitting president in history, and leading candidate (by far!) for the Republican Party nomination, with a crime, when it is known by all that NO crime has been committed, & also that potential death & destruction in such a false charge could be catastrophic for our country?" wrote Trump.
We don't have time to go over all of the B.S. in this statement. Although for the record, Trump lost the popular vote in both of his elections. But it's not surprising that law enforcement might be on edge about his arraignment.
However, federal law enforcement officials who spoke to CNN News said that they aren't seeing the same kind of "chatter" online as they did before the insurrection. We obviously won't know how Trump supporters (who only seem to like him more now) will react tomorrow. But if you want to follow our coverage tomorrow, we'll be on the scene; really hoping the feds are right this time.
Why Was Donald Trump Indicted?
We have to explain why Trump was indicted last Thursday. (Feel free to check out our longer explainer if you want all of the details.)
In short, Manhattan District Attorney Alvin Bragg was investigating Trump for alleged hush money paid to adult film actress Stormy Daniels to keep her from disclosing their alleged affair ahead of the 2016 election. We don't know the exact charges yet. However, the crux of the issue appears to be whether or not Trump falsified business records to cover up the improper campaign contributions (i.e., the hush money payments). Prosecutors seem likely to argue that the attempt to cover up a less serious crime (campaign finance violations) with another crime (falsifying business records) was a felony.
Without a copy of the indictment, it's hard to know precisely what Trump is facing legally. However, some outlets have reported that he is facing over 30 different counts related to business fraud.