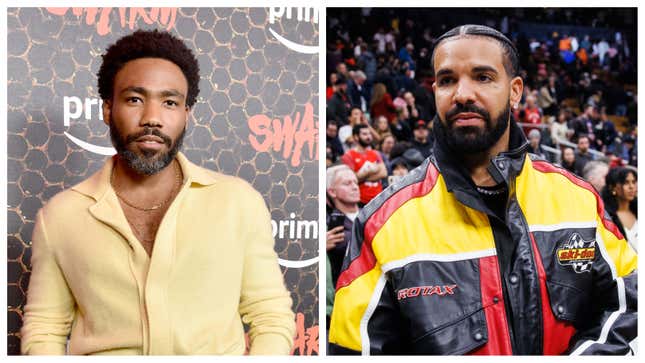 For all the discourse it inspired, it's hard to imagine Donald Glover (a.k.a. Childish Gambino's) thought-provoking, symbolic imagery-boasting, 2018 hit "This Is America" having a connection to Drake. But in a new interview, the Atlanta creator confirmed that it does—just not in the way you think.
Donald Glover's Swarm Is Our Black TV Pick of the Week
Speaking to GQ for their first-ever Global Creativity Awards Issue, Glover revealed that the political anthem originally started out as a diss song about the popular Toronto rapper, but then later evolved into what it is now.
"The idea for the song started as a joke, to be completely honest," the "Feels Like Summer" artist explained. "'This is America'–that was all we had, was, like, that line. And it started as a Drake diss, to be honest [laughs], as like, a funny way of doing it. But then I was like, 'This shit sounds kind of hard, though, you know?' So I was like, 'Let me play with it.' So we just had that for a long time."
He then went on to explain how he and director Hiro Murai began to study Michael Jackson's Thriller to figure out how to "make people care" about the important things that were happening at the time. He also cited the protests going on at the time as further inspiration for making the song hit the way he intended it to.

"The feeling of what was happening at the time, all the uprisings that were happening. It really informed my writing and stuff," he said.
As previously reported by The Root, Glover scored a win for that song in particular, last week when a federal New York judge dismissed a copyright infringement lawsuit that was filed against him back in 2021.