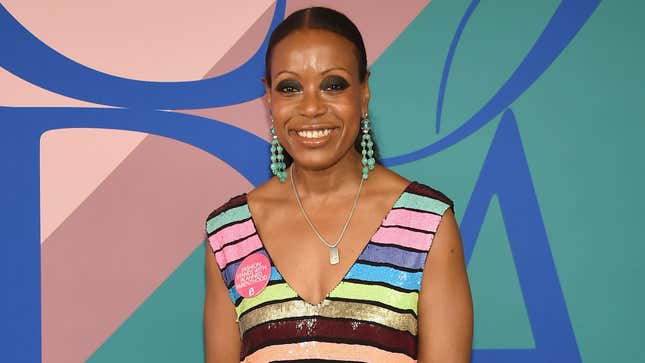 She was the first black female designer to be recognized by the ever-exclusive fashion industry, and two decades after launching her eponymous label, Tracy Reese continues to lead the charge. After taking what appeared to be a well-deserved break from the flurry of biannual Fashion Weeks the past few seasons, the Detroit-born Reese has reemerged—with a lesson in bringing sustainability home.
America's Got Talent Host, Terry Crews, Shows Full Gratitude For Writers On Strike
As reported by Vogue, Reese recently announced the launch of a new label, Hope for Flowers, building on her already diverse and size-inclusive platform with an issue that affects us all: the environment.

Based in Reese's native Detroit, which is enjoying a renaissance of its own, the summer-sweet new line, available now exclusively at Anthropologie, bears many of the hallmarks of Reese's super-feminine aesthetic. The difference? Her newest offering is produced with "sustainable materials, ethical production, and handwork," writes Vogue. The inspiration came as the industry pioneer contemplated her response to the rise of fast fashion.

"The more I learned about fast fashion and cheap production in general, I just knew that was the antithesis to everything I was thinking about," Reese told the magazine. "It's like slavery. I knew I didn't want anything to do with that, so it made me get really serious about what I did want. … I knew it was time for me to look at my career and my dreams, and rethink how I was going about the process and ask myself: How can I do better?"

Consider Reese's reckoning entry into the era of "slow fashion," in which transparency is paramount to big business, natural fibers are bae, and we only produce as much as we need. Local, smaller batch production is also prized, which is why Reese has chosen to produce at least a portion of her collection in Flint, Mich., at a factory which aims to empower women reentering the workforce with marketable skills.

"I love being able to go to Flint and work with these women and see the clothes being made," she told Vogue. "They have so much heart and are really willing to dig in and learn."

In an appropriate nod to her home state and her sustainable model, the Flint-produced pieces will be sold exclusively through Howard alum Roslyn Karamoko's Detroit Is the New Black. Reese is reportedly also working with local groups to build up the garment production industry in Michigan and provide internships and workshops to local students.

For those accustomed to seeing the designer's looks on the runway, never fear: she'll be returning to New York in September with a Spring 2020 collection—a perfect time to consider our Hope for Flowers. In the meantime, Reese is encouraging more sustainability—and slowing down.

"Everyone can do a little bit, and then you can do a little bit more, and a little more," she later added. "People are mystified about where to begin, but there are a lot of ways to approach it."